New England Triumph - Day of Triumph 07-26-09
Larz Anderson Museum - Brookline, MA
Despite an early morning thunderstorm, two crazy guys showed up in the rain, at my door with loud and mean sounding TR6's and forced me to go.
The rest is shown below.

This is the Larz Anderson Museum. It is really beautiful and full of great cars.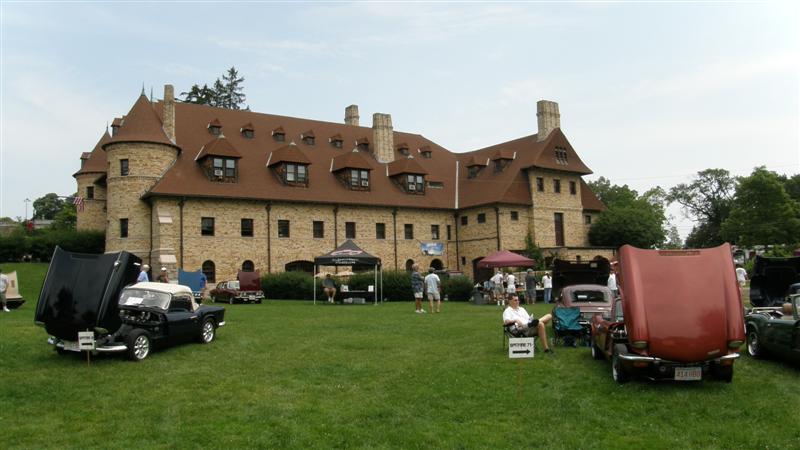 The main entrance is shown on the left.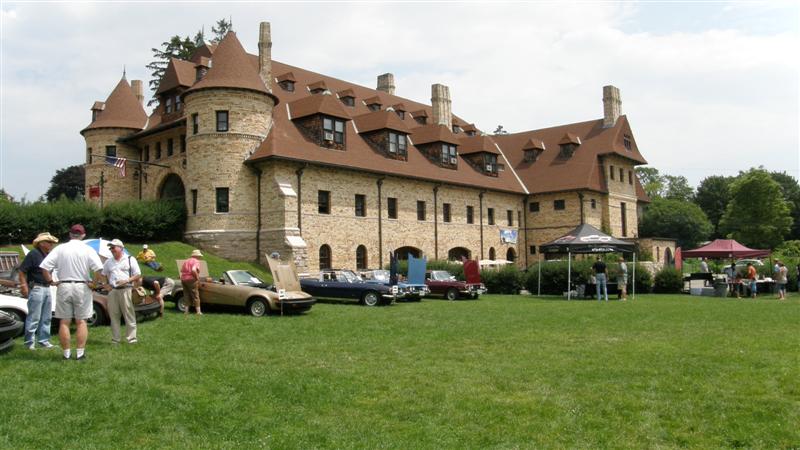 This TR6 looks like it would be fun to take around the park.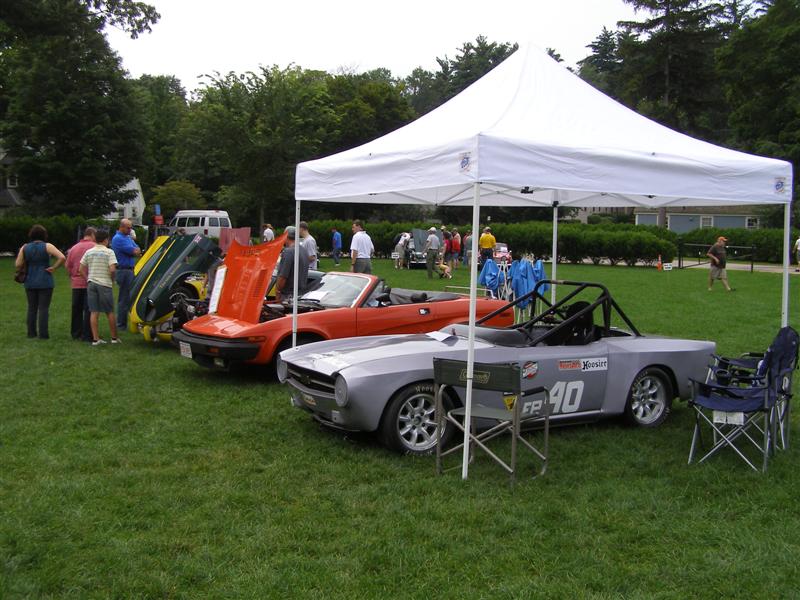 Let's start with the TR3's, everyone's favorite Triumph. Early arrivals still had their tonneau's on from the rain.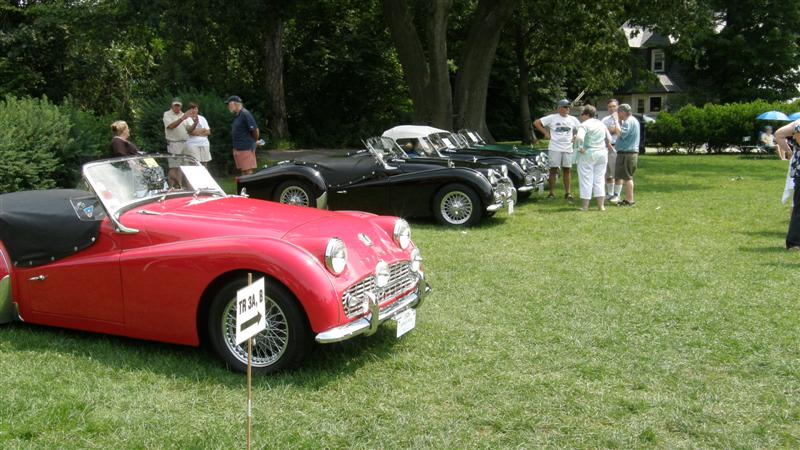 These cars really started the movement for Triumph in the US in the 50's and 60's.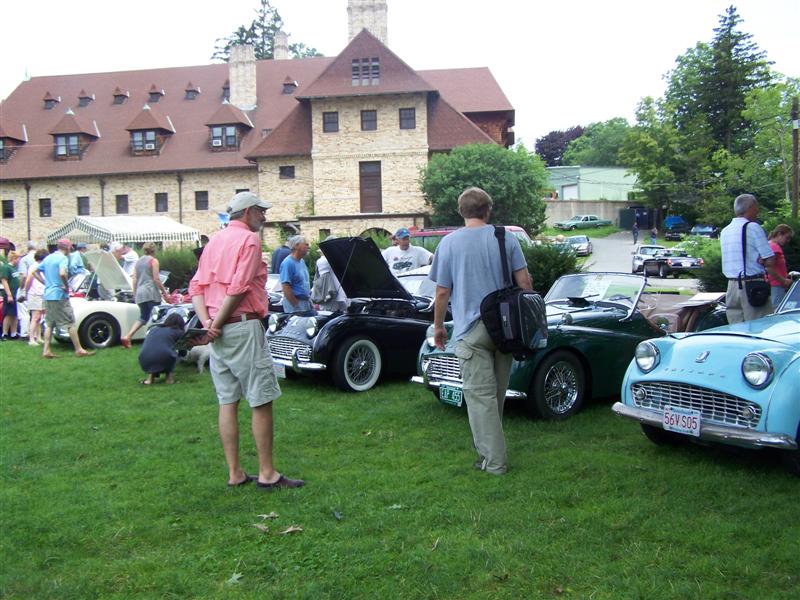 There is always a good showing of these and this year was no exception.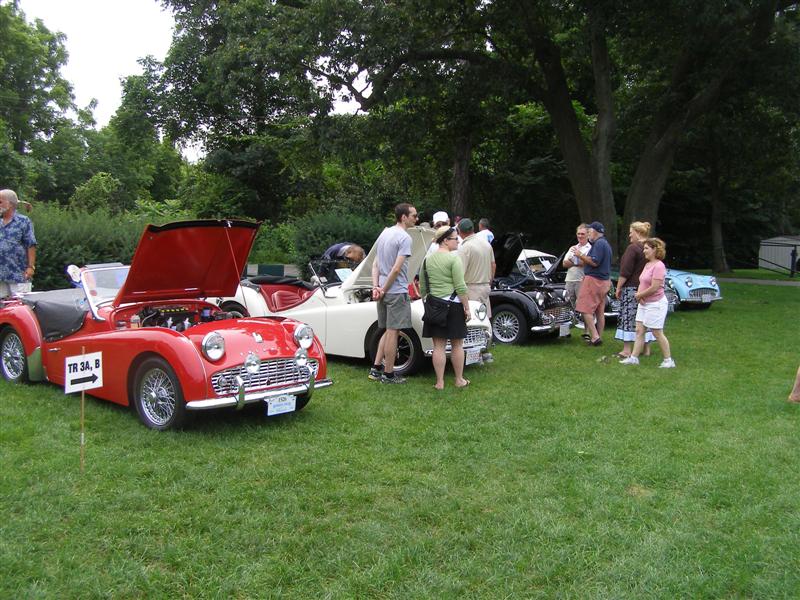 The red one screams "Sports Car" at you while the black with the wide whitewalls is more subtle.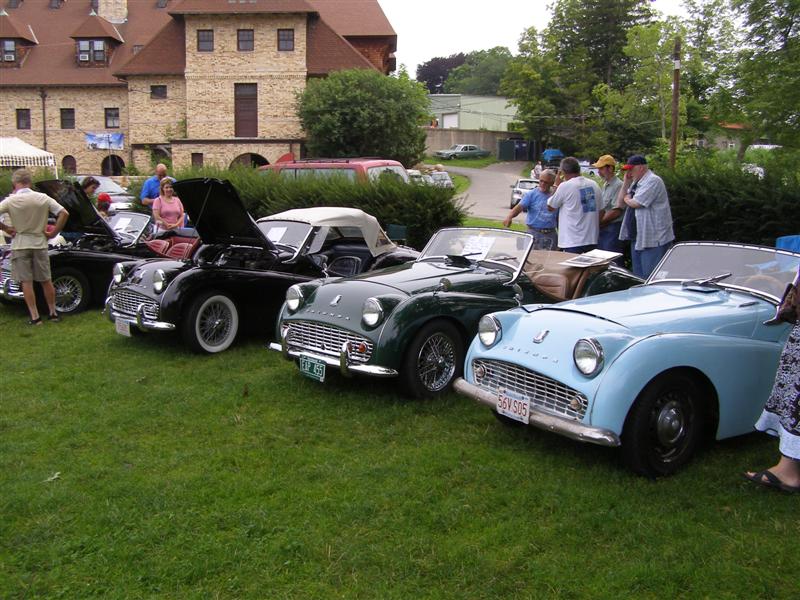 I love that black beauty below (with the black wall tires)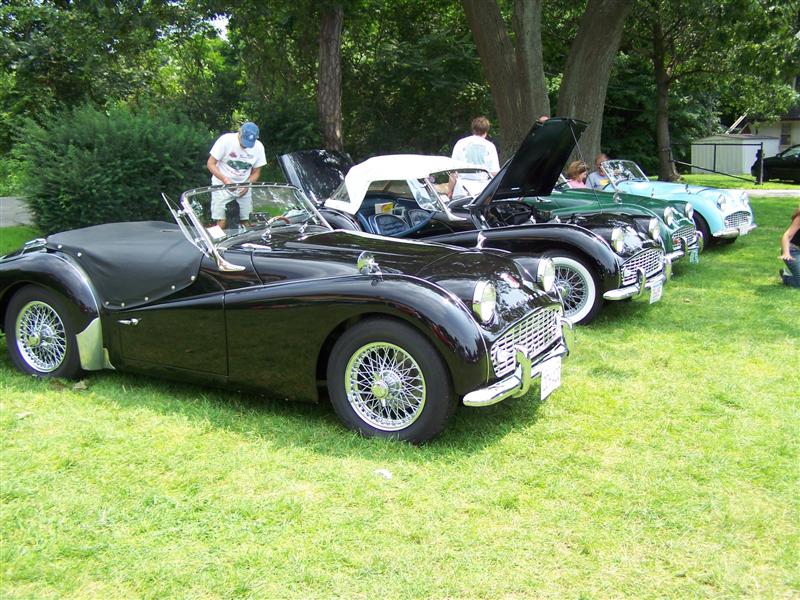 These were the predecessors to today's rice rockets.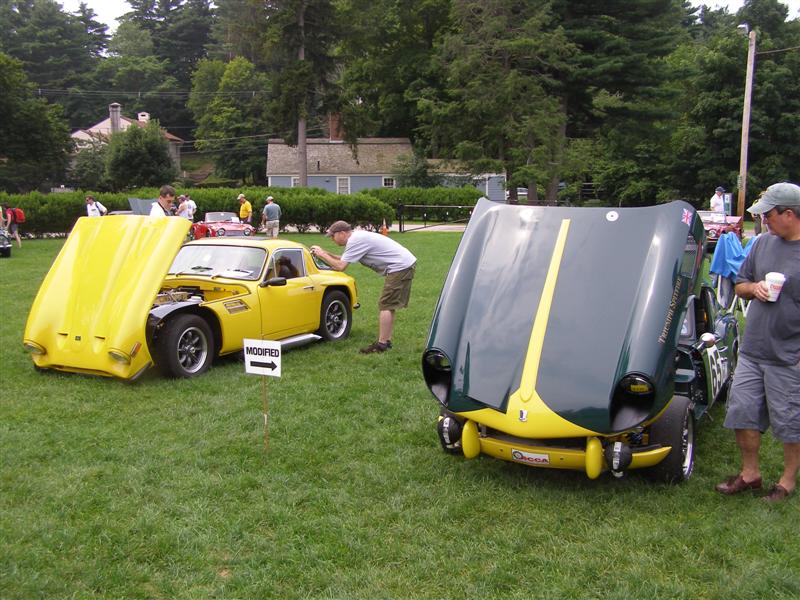 That is a healthy engine hiding under that hood. Nice work on this one.
The TVR is one pretty car and being painted Mimosa just makes it better.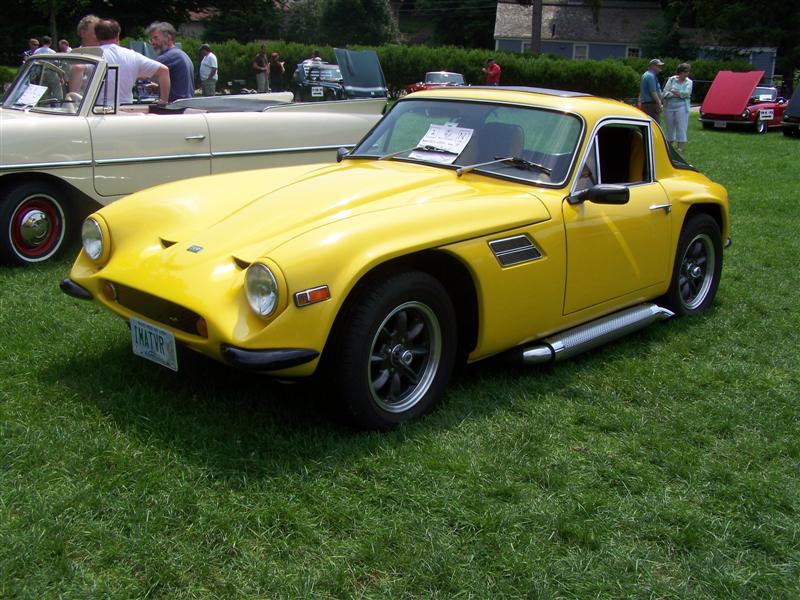 This nice flat hood on the Amphicar makes for a good desk to fill your ballots out on.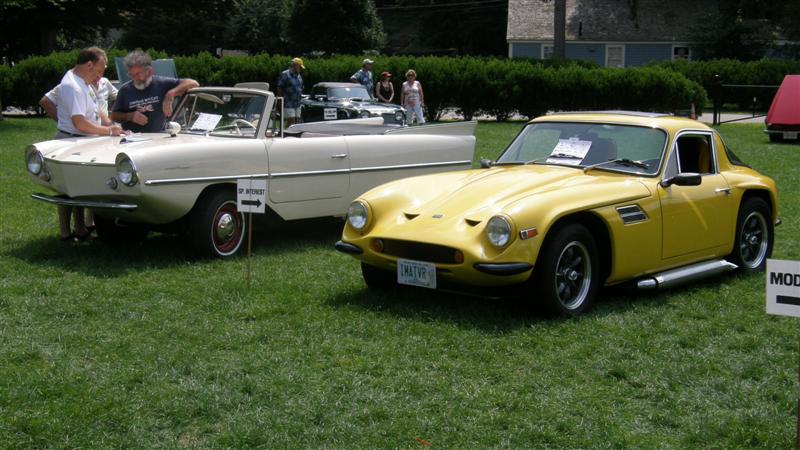 While not quite a Triumph, it still is a unique car at any show. Even at a boat show.
I guess that it's still pretty comfortable to lean on as well.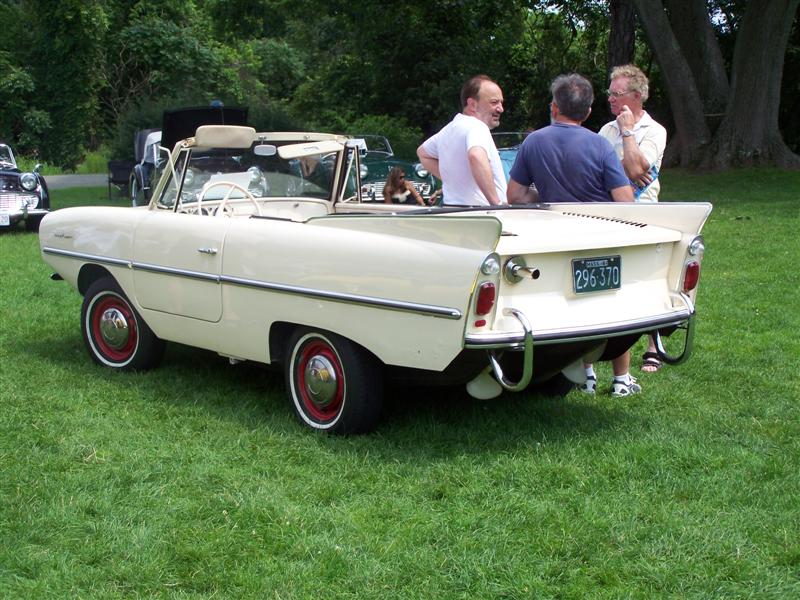 At home on land or in the water, the Amphicar was quite a hit in it's day.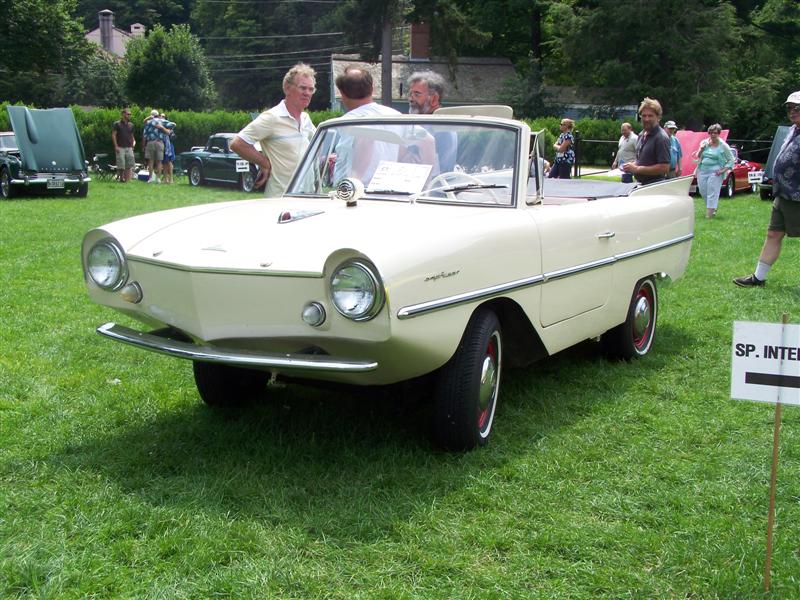 I hate to say that I am old enough to remember these running around the fresh water lakes in western PA in my youth.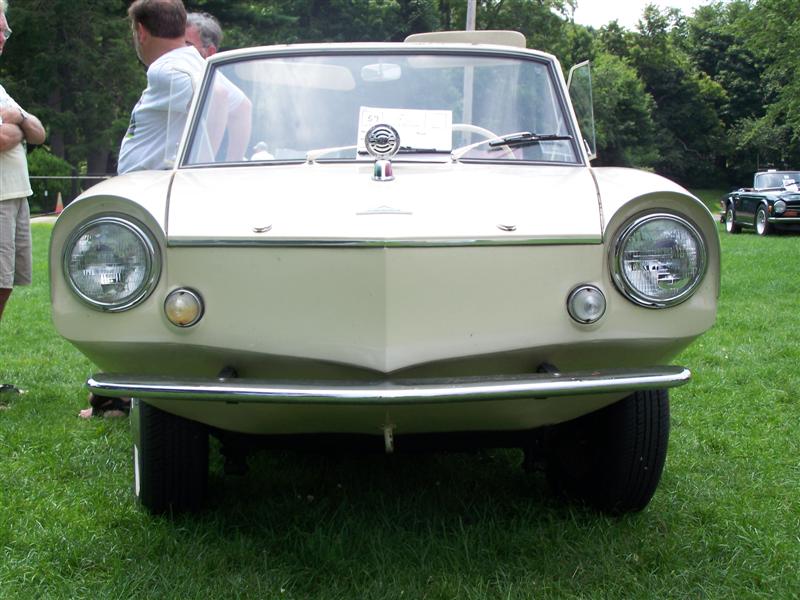 Last off topic. There were even transmissions/conversions for sale this year.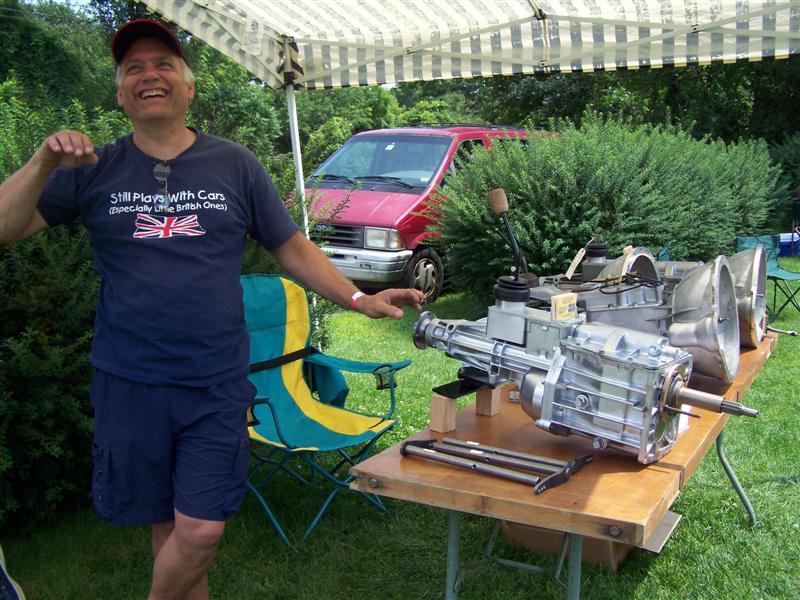 Back to reality and we have the TR4's.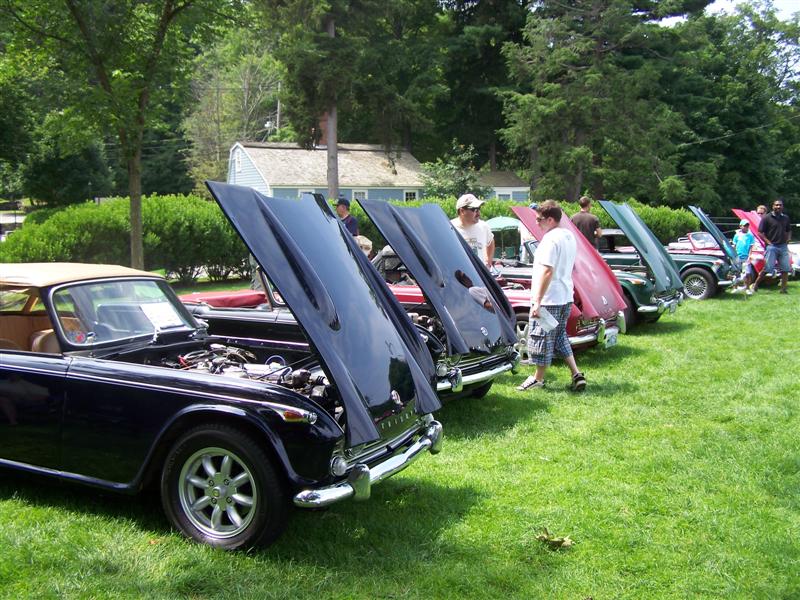 My favorite color combo on a TR4, black with tan interior.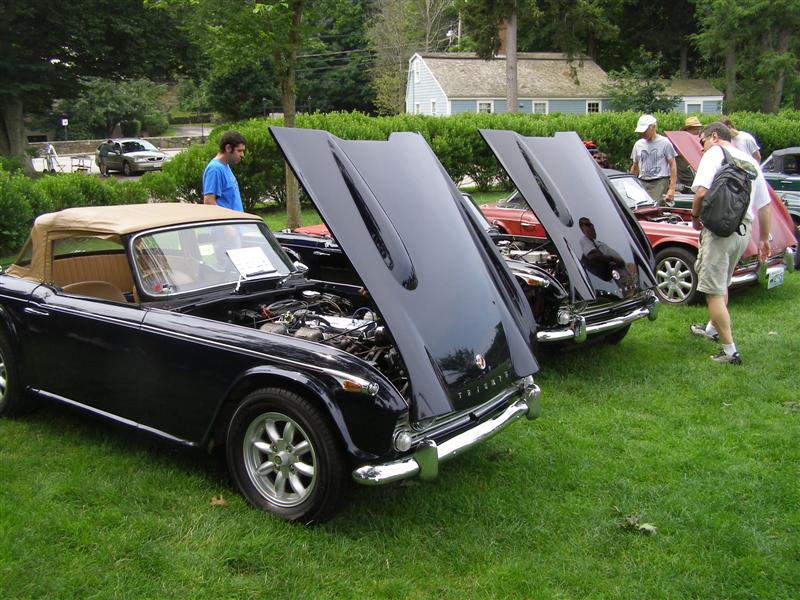 This TR4 was really sweet.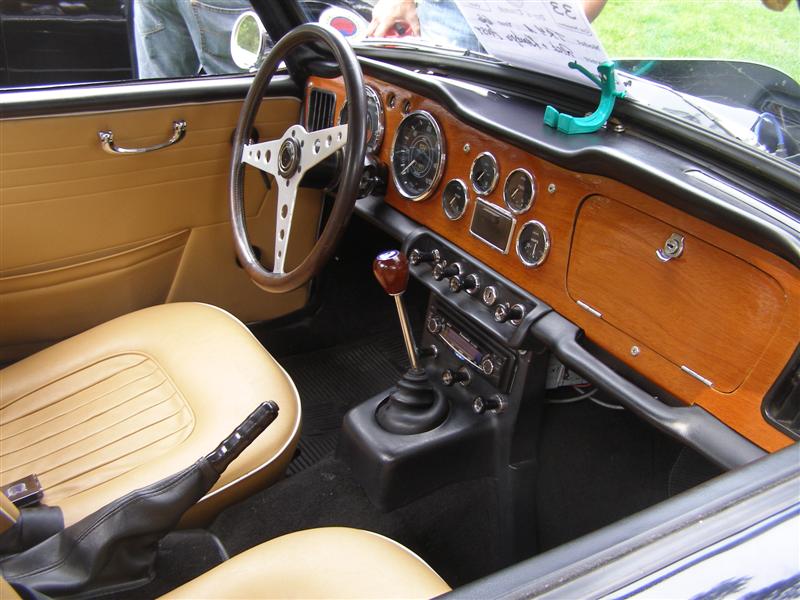 This one is slightly different with the black on black and steel road wheels with hub caps.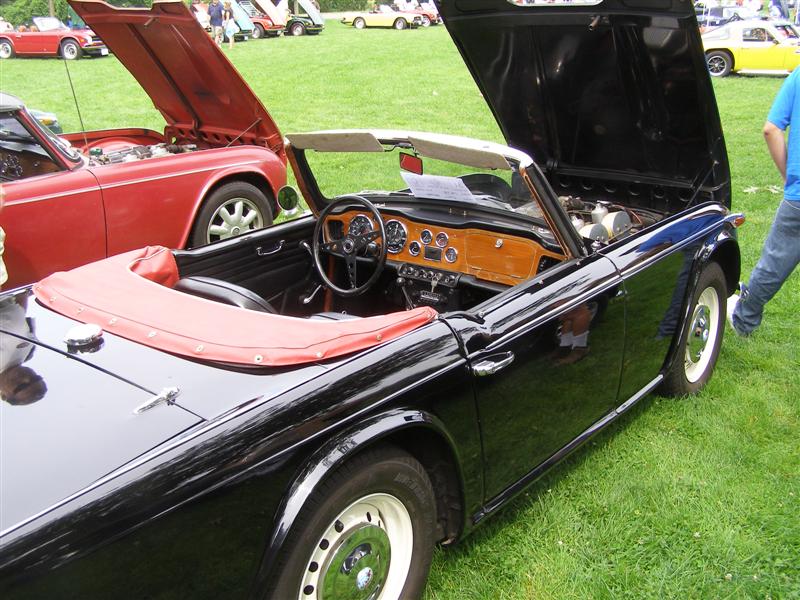 And the traditional green with wire wheels.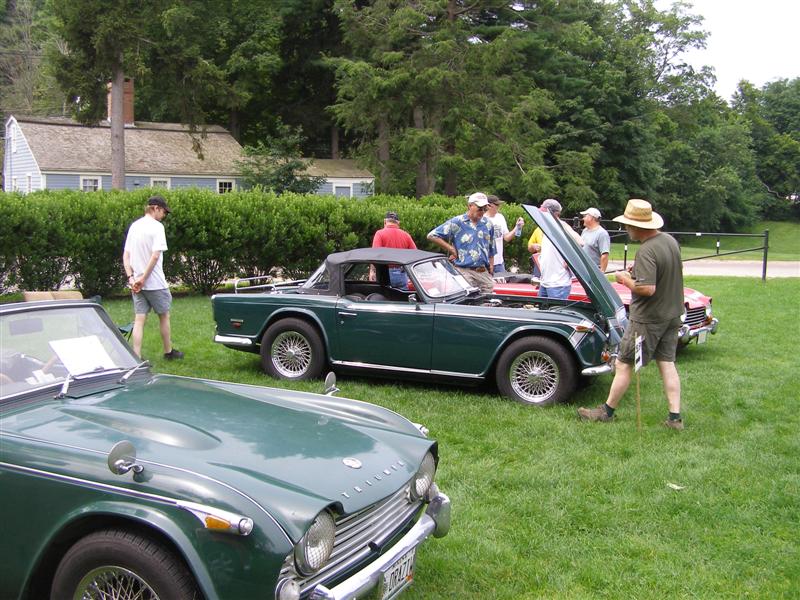 This TR250 is to die for. I wish my batteries didn't die, or I'd have taken a lot more pics of this car.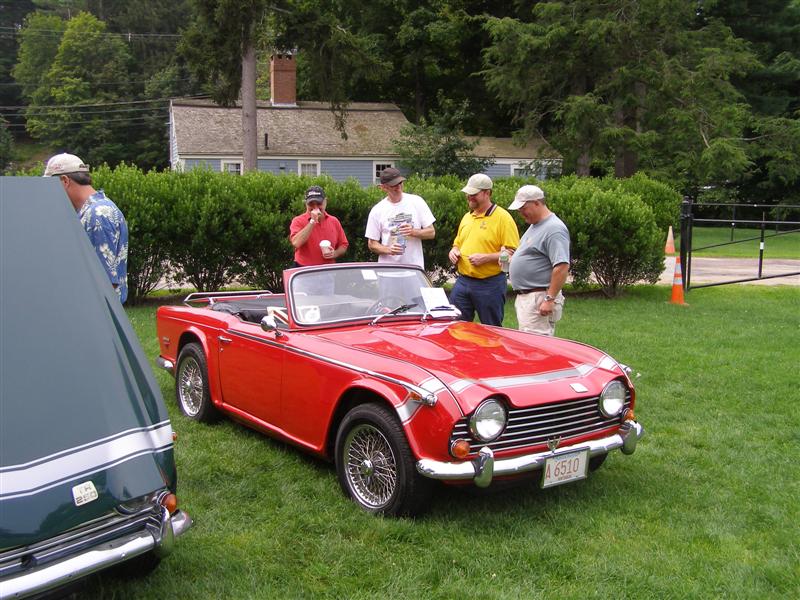 Thanks to Dennis (Tracer51) I have another shot of it and I white one that snuck in after I took my pictures.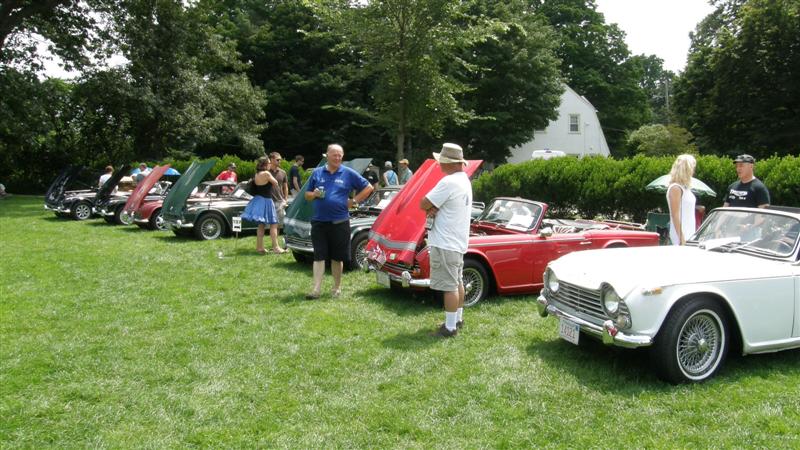 Rear view of the bad boys.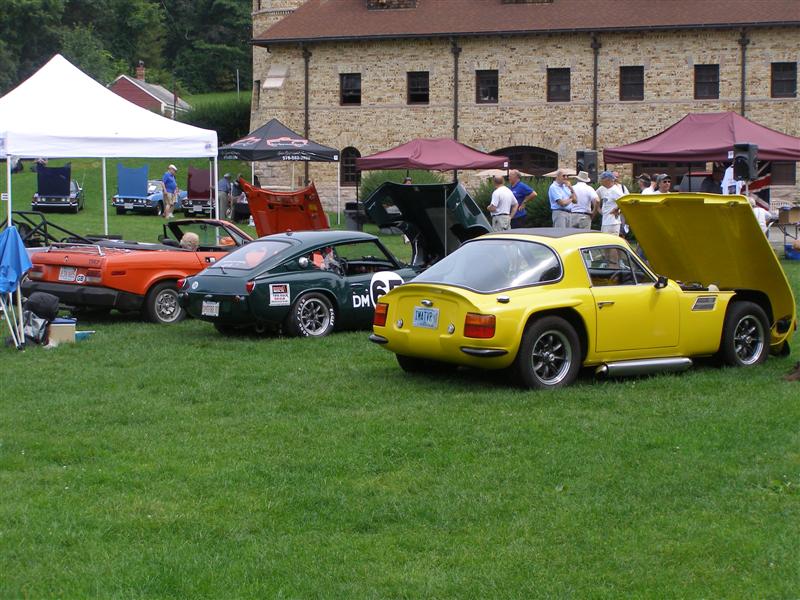 The TR6's began to roll in as the clouds broke and the sun came out. We had a nice group.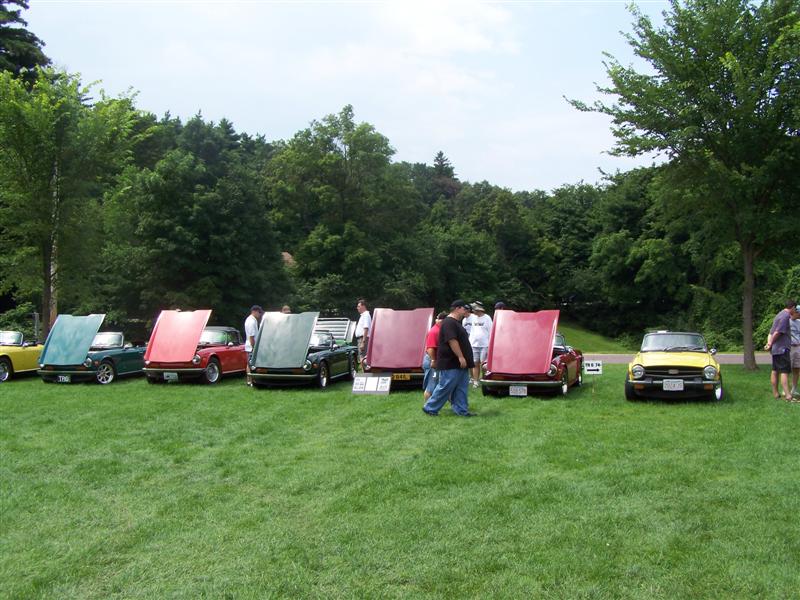 Hoods up, attention to details.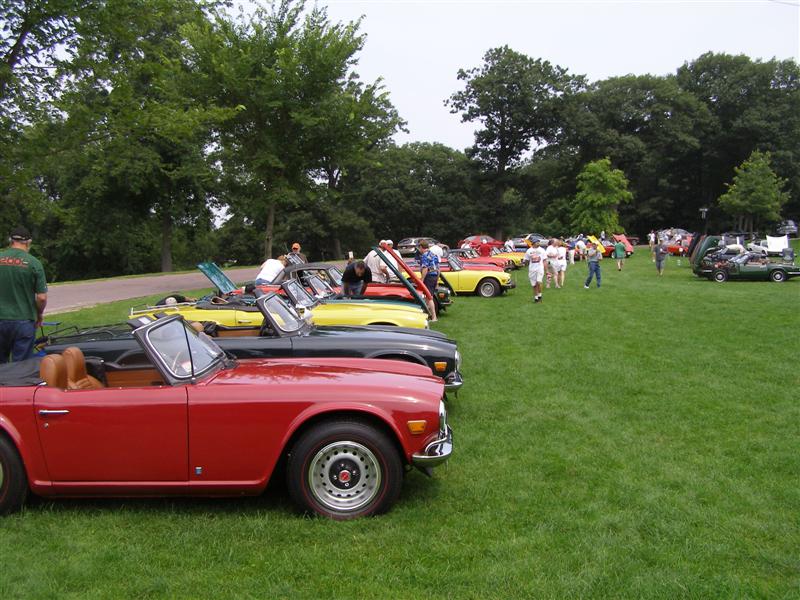 Speaking of details, Al (Trick6) to all of his Forum fans, carries a great set of boards detailing
the history of his car and all of the work that he has done to it over the years. Quite a list of improvements.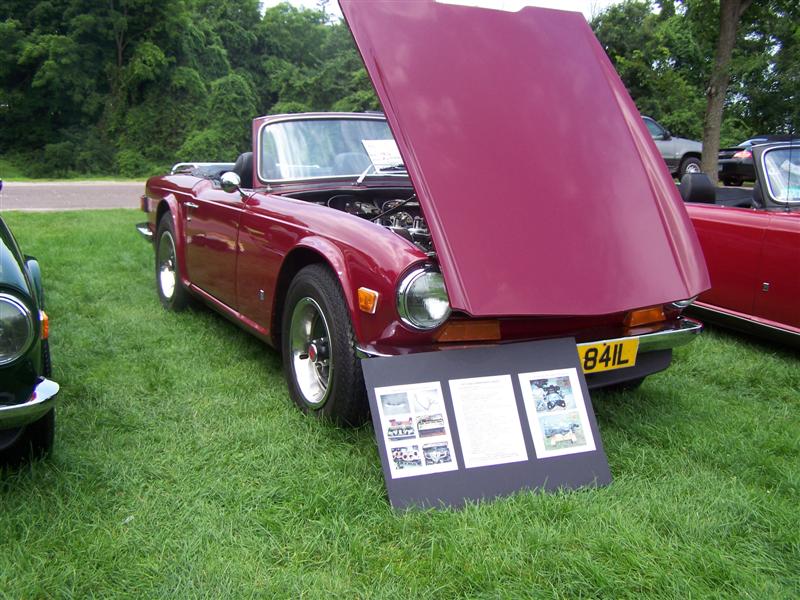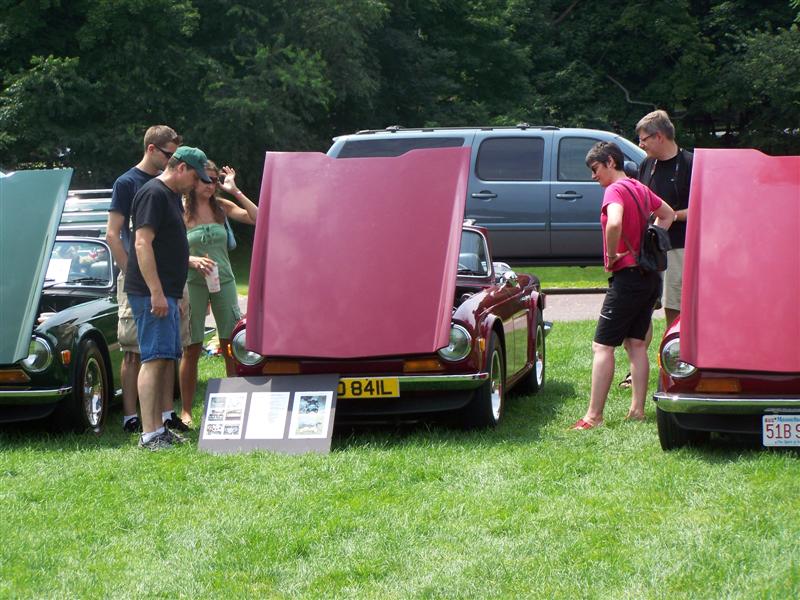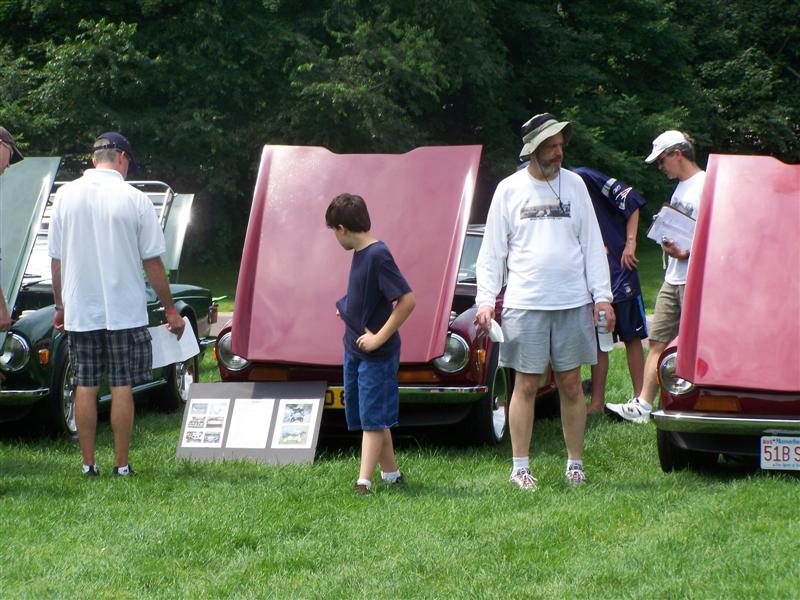 And a lot of people stop by to read them and ask Al questions and he is always nice and takes the
time to be patient and explain the distinct differences between the GP2 and the GP3 in great detail.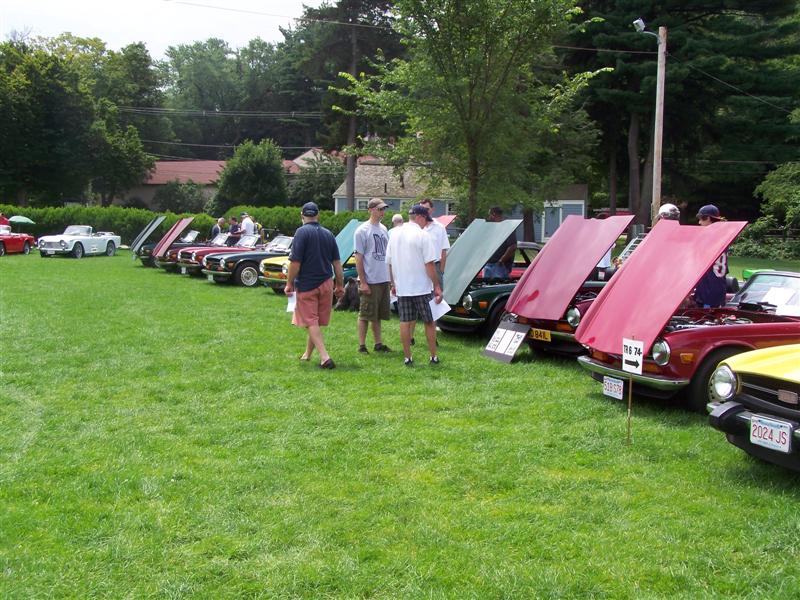 This picture kills me. At this moment a fantastic 1962 red & white Corvette just slowly drove by.
It was definitely national award winning material, just like the 1957 Fuelie up in the museum.
That is Al's car that they were admiring until the Corvette temporarily distracted them. Al took a lot of these pics.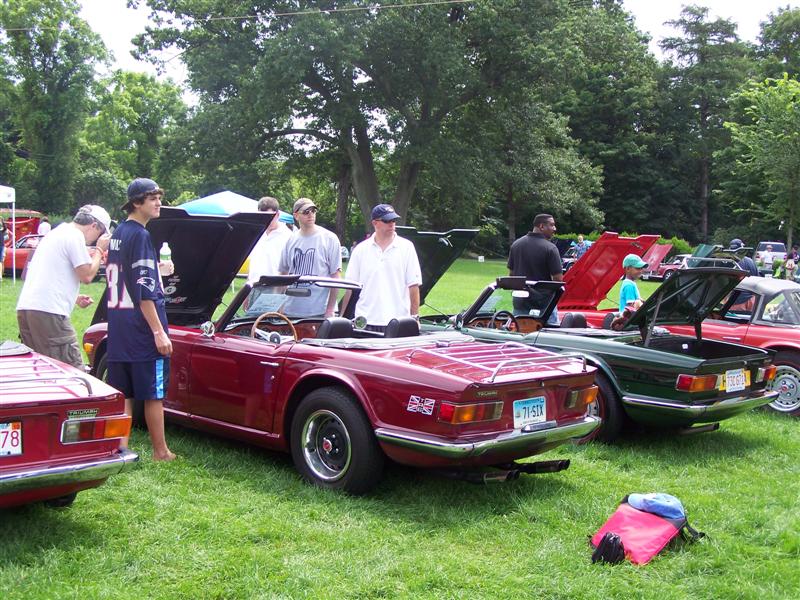 There were a lot of Mimosa and Topaz TR6's this time. That is a good thing.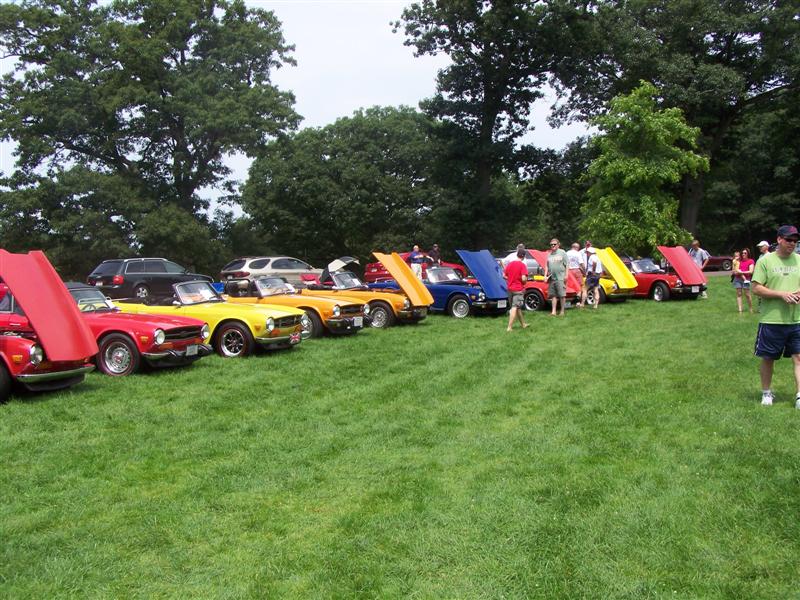 There was a rainbow of colors and every wheel and tire combination to look over.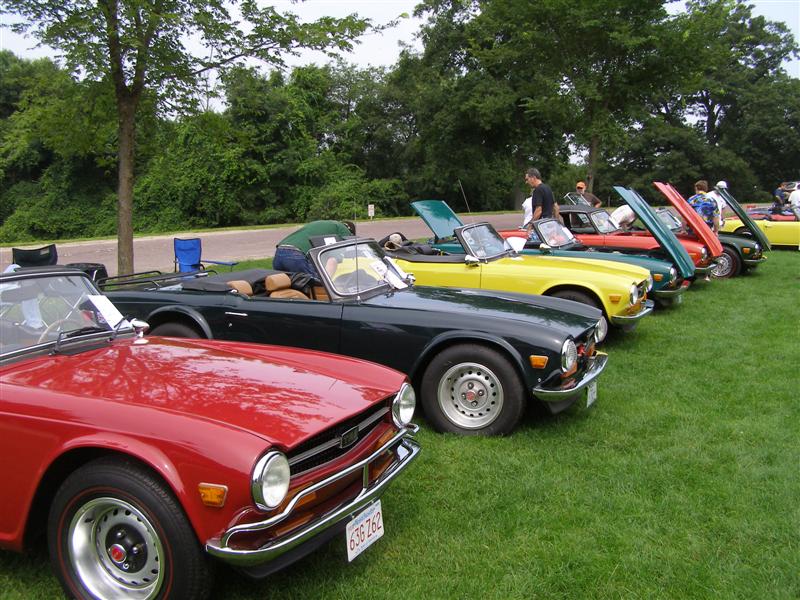 That is Russ standing behind Howell's really nice TR6. I followed it up from RI and enjoyed the exhaust notes along the way.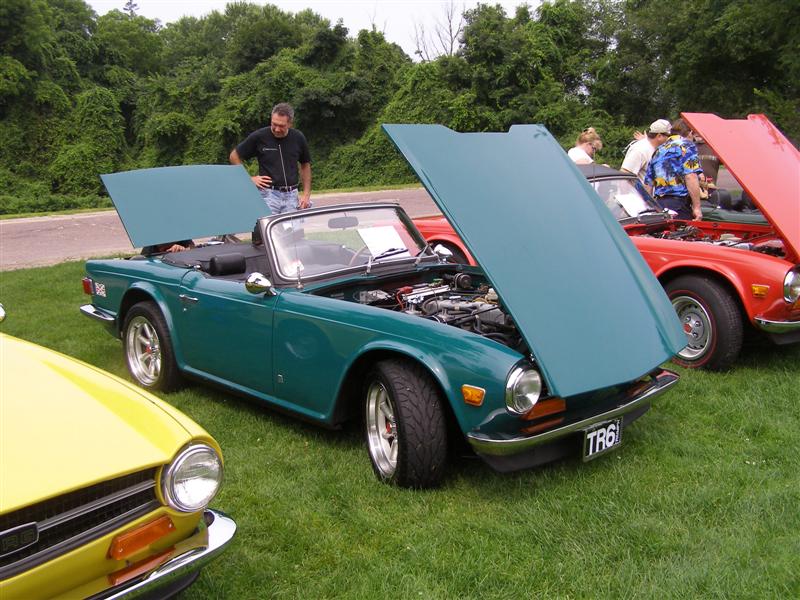 This TR6 is really as nice as it looks in the pictures.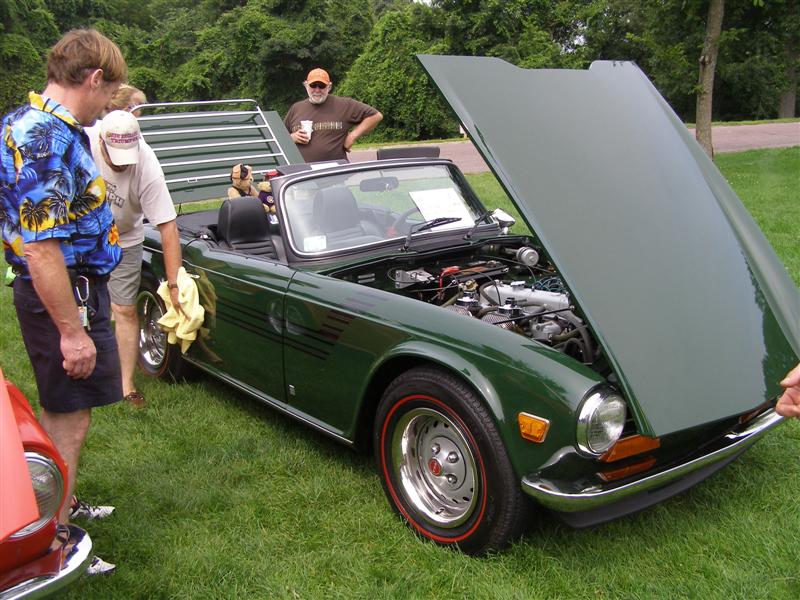 Details, details, details.............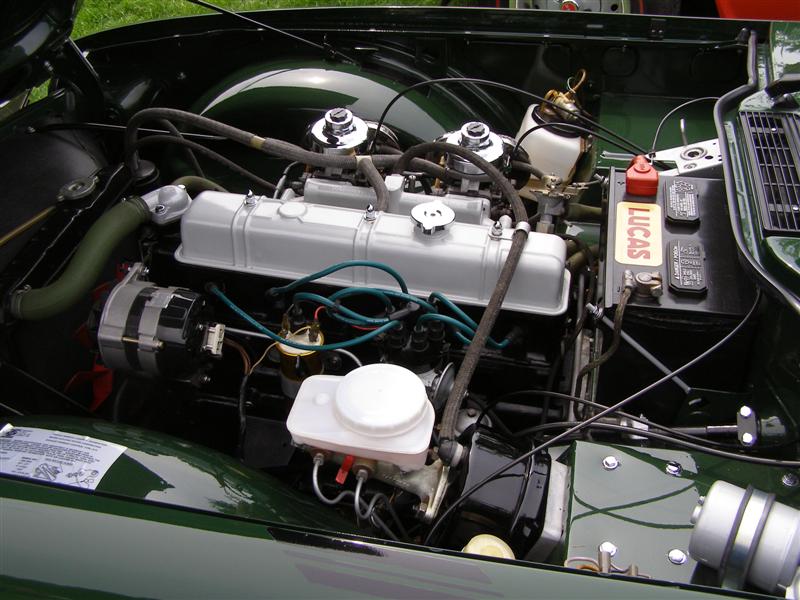 Mrs. G does help get the car prepped for the shows.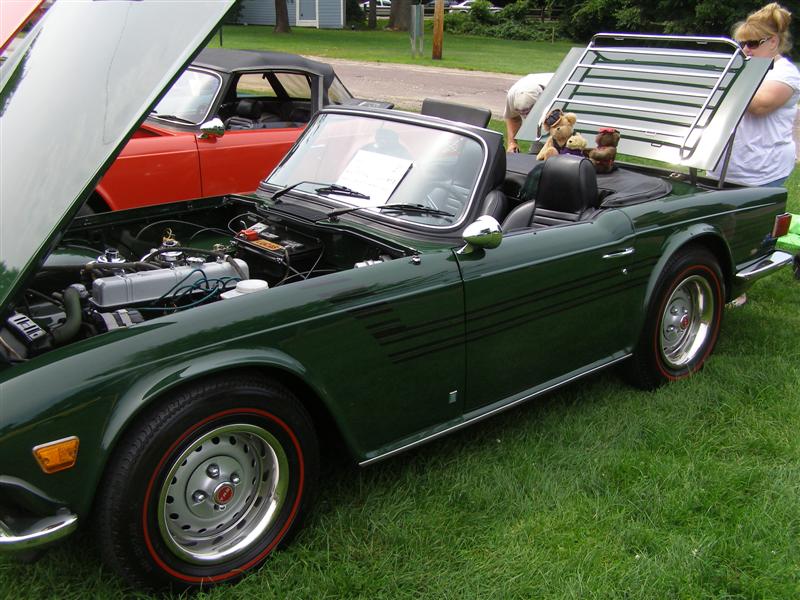 I had to take a few of this car before the batteries quit.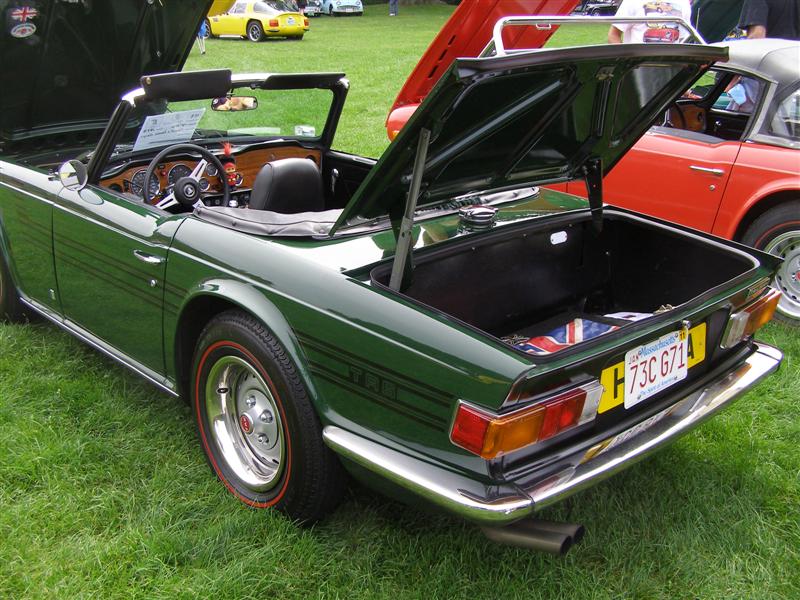 See, there really are more than three Mimosa TR6's in the world.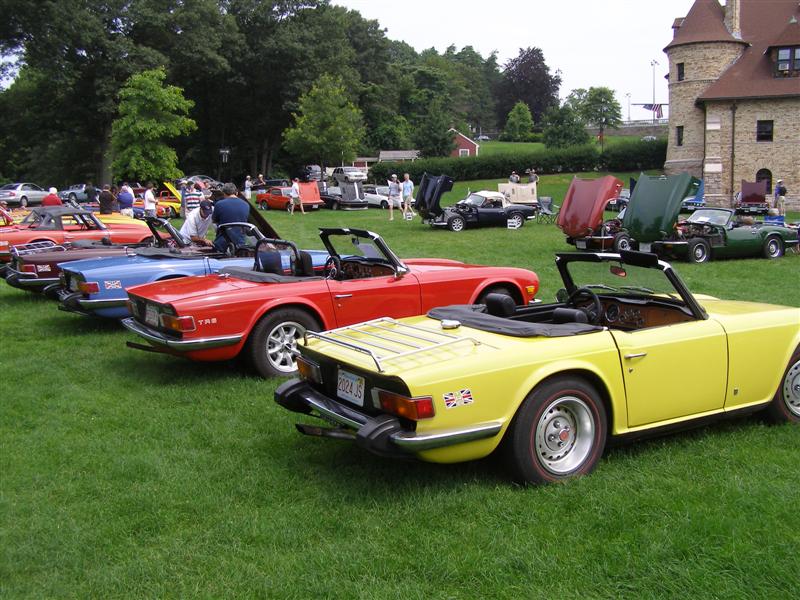 Very intense tech talk. There was many of those held that day.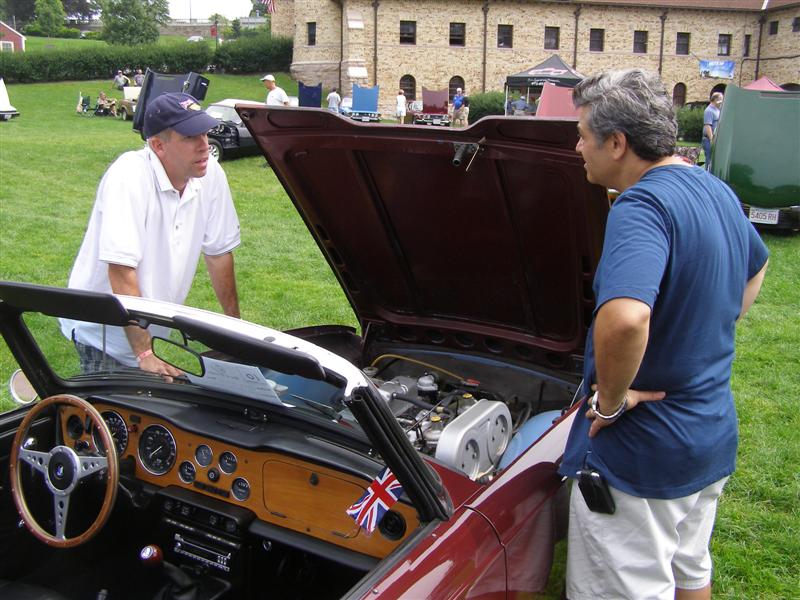 Another tech session comparing the wiring on the oil pressure switch from my car to another.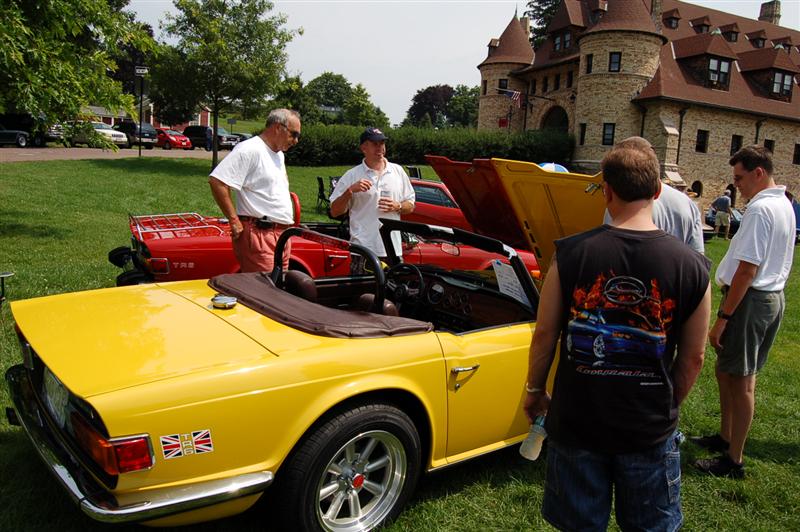 The second red TR6 belongs to Russ and has only 22,000 original miles on it.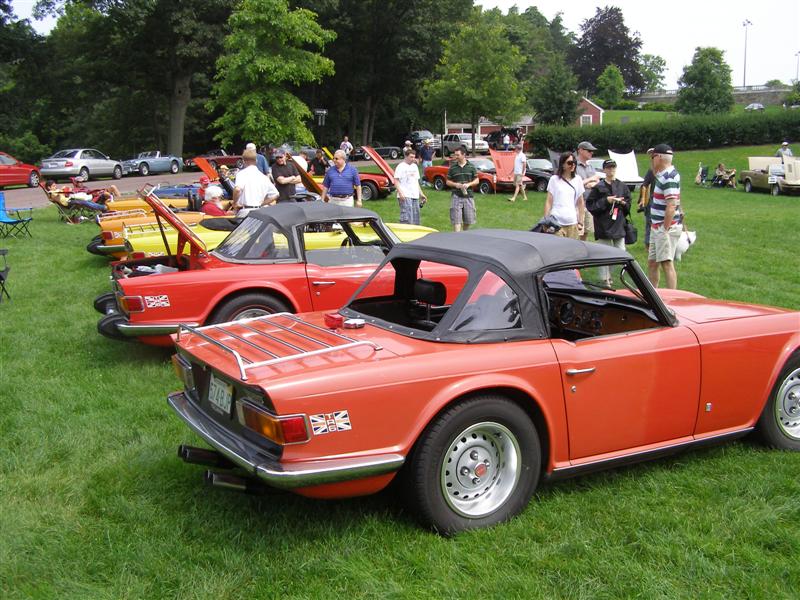 I like the modern red line tires on these black center wheels.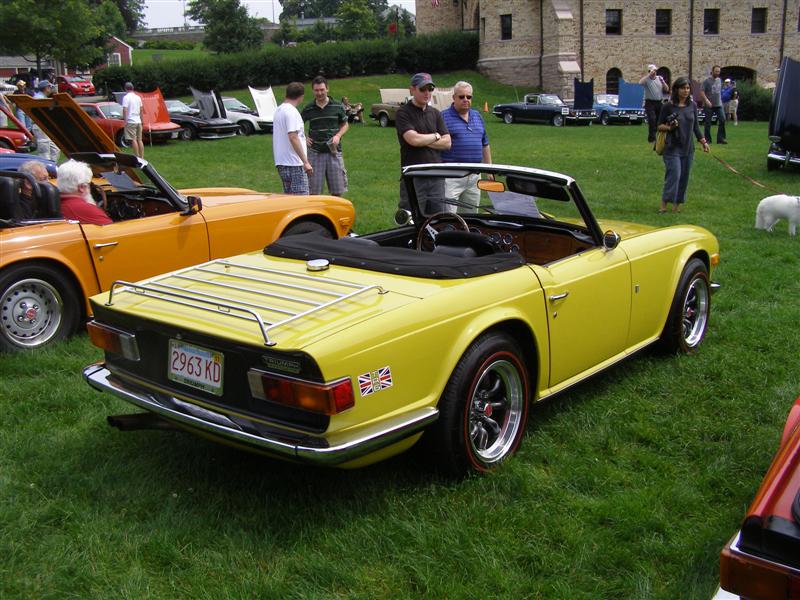 Dennis is getting his CD's picked to entertain us with music while we eat sausage sandwiches.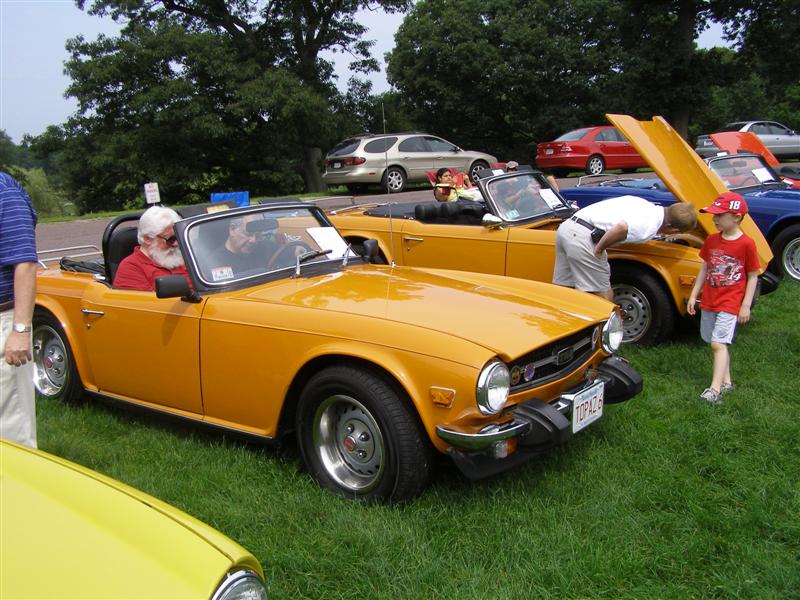 Steve can't stand the fact that the blue TR6 is spotless and he begins to polish his hood.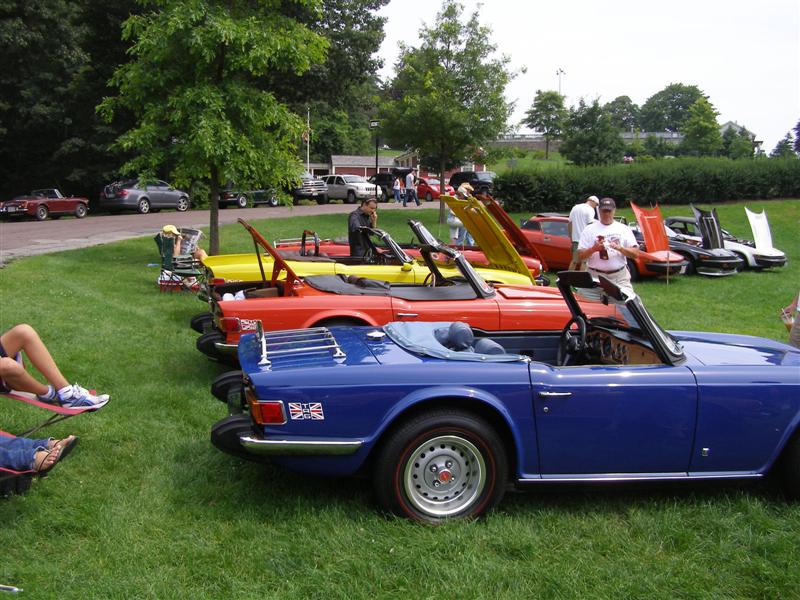 Erik egged him on, but the hood was hot, so Steve battled to get the streaks out while Erik ate another sandwich.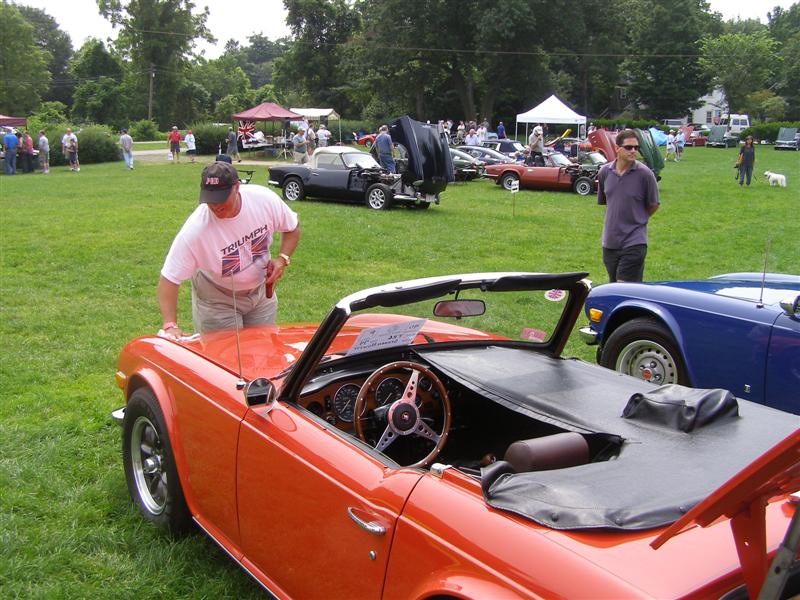 And all of that hard work paid off for Steve. That and a ton of work over the winter.
Congratulations buddy!!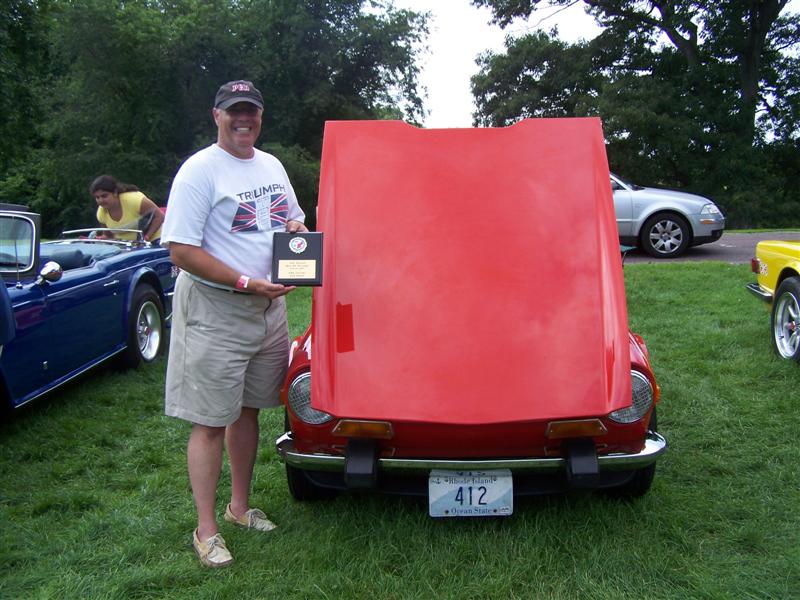 I'm surrounded by red TR6's!!!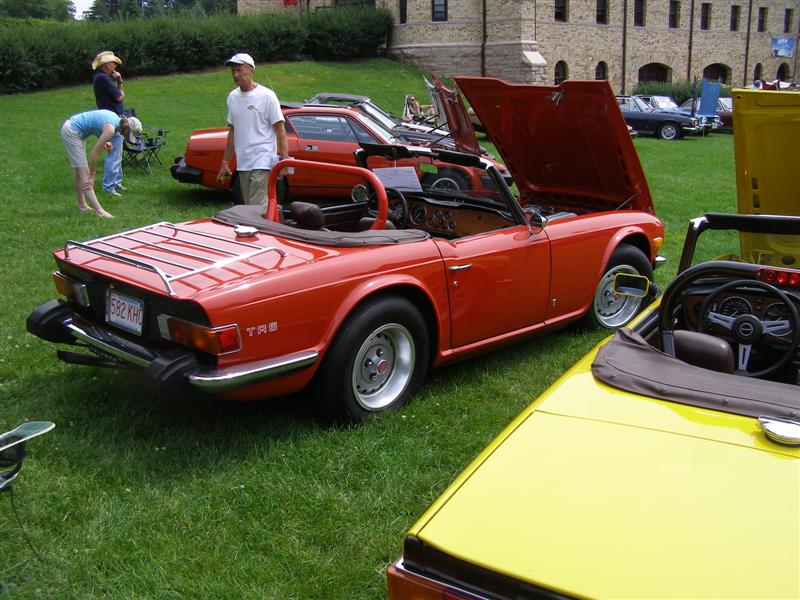 This one is mine.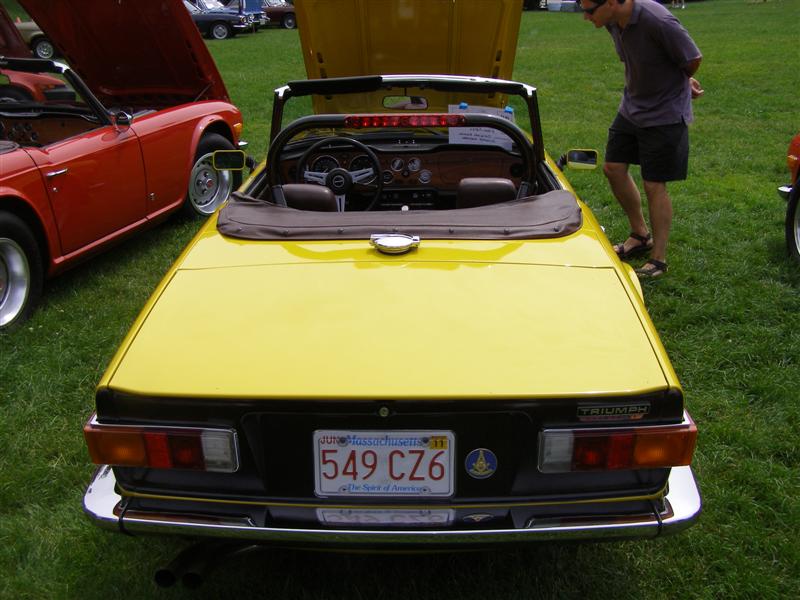 Now for the Spitfires. Battery is getting really low.....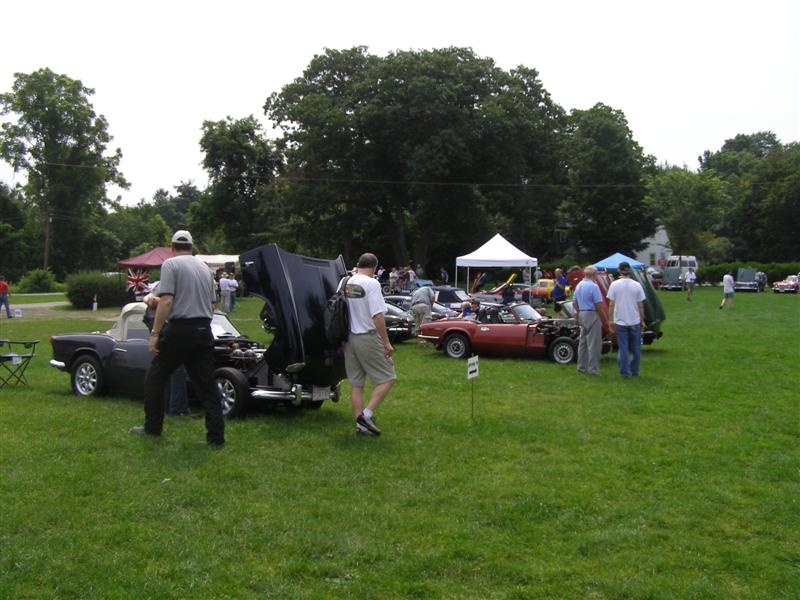 I had to get the TR7's. Erik won third place for his white one on the end.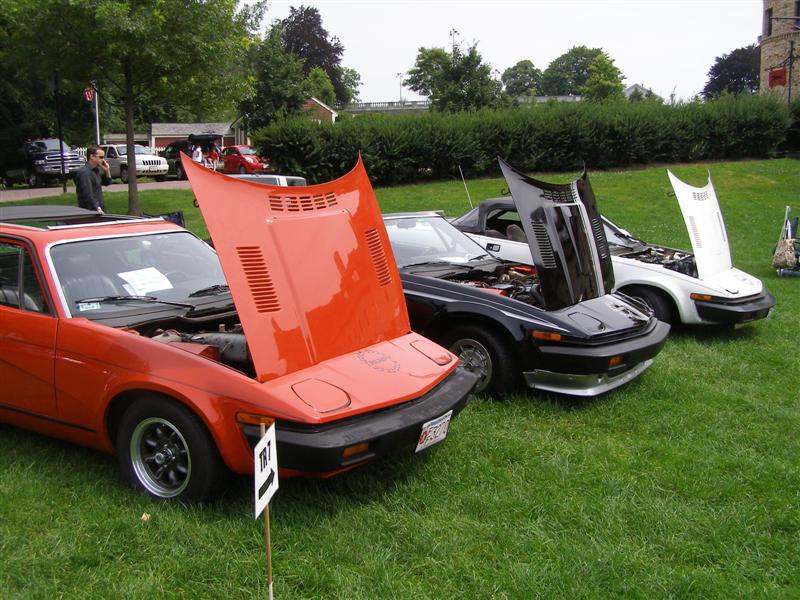 Speaking of the winners, here's Steve, Erik & Russ.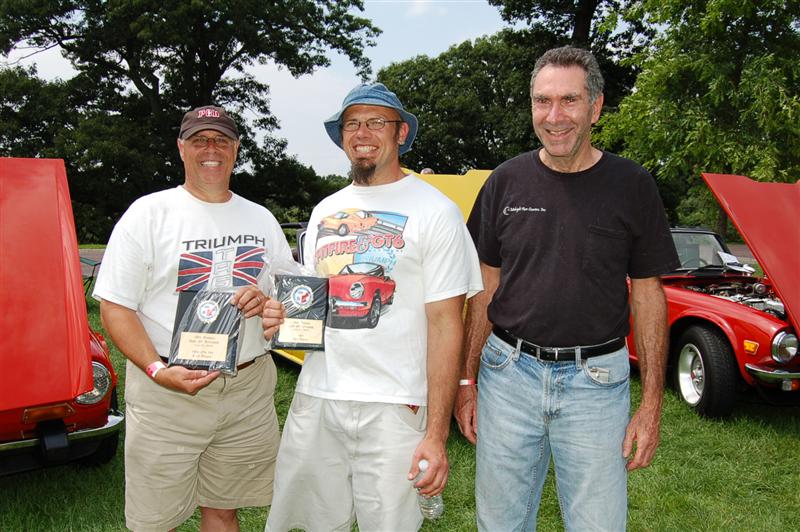 Just another view of the TR7's.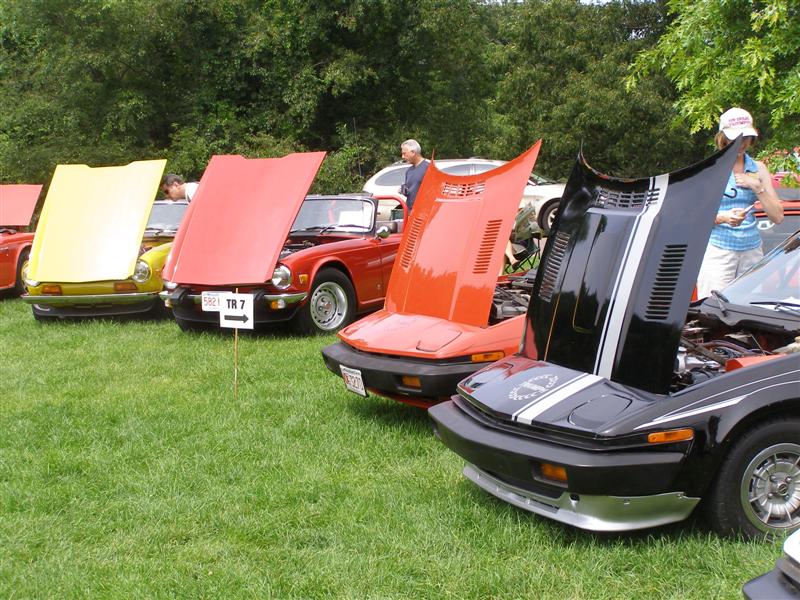 Another nice TR7 coupe.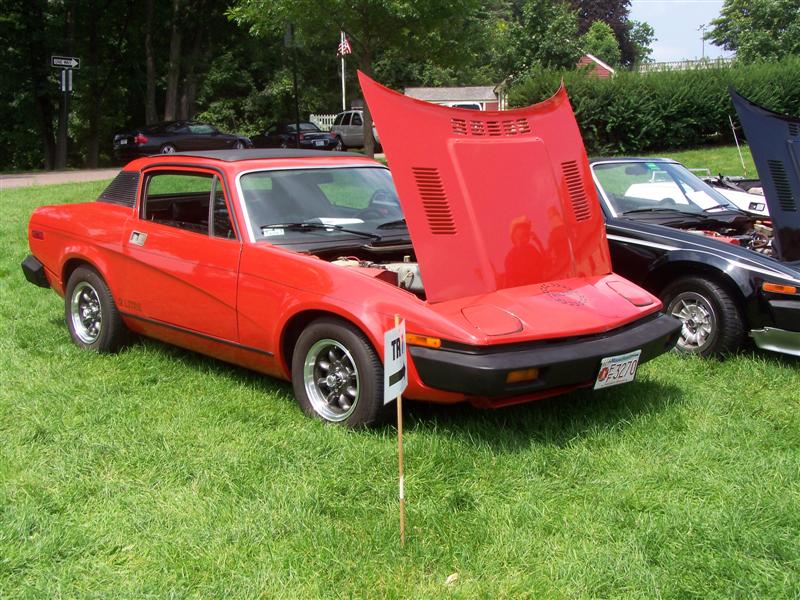 The lone TR8 and it was a nice one. Are these guys afraid of a little rain or what?
These cars were built in England for crying out loud. It rains constantly over there.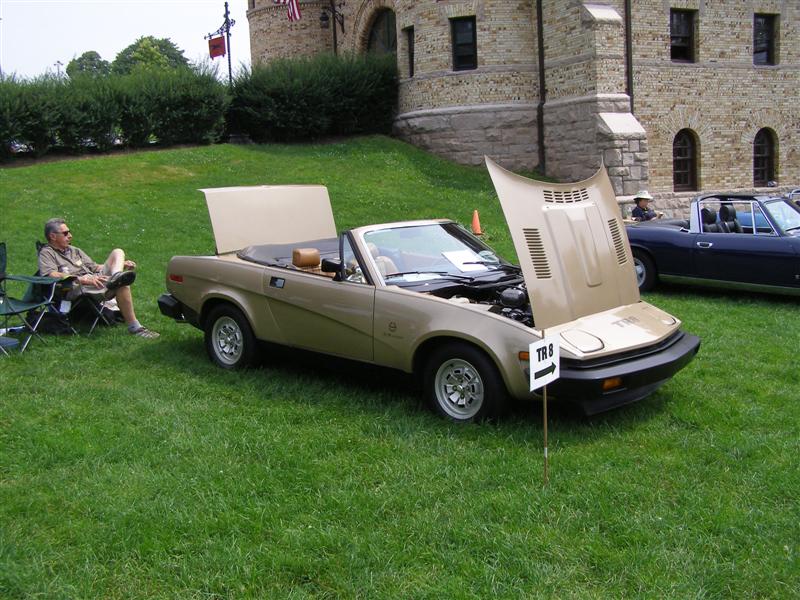 This car was very, very neat and clean.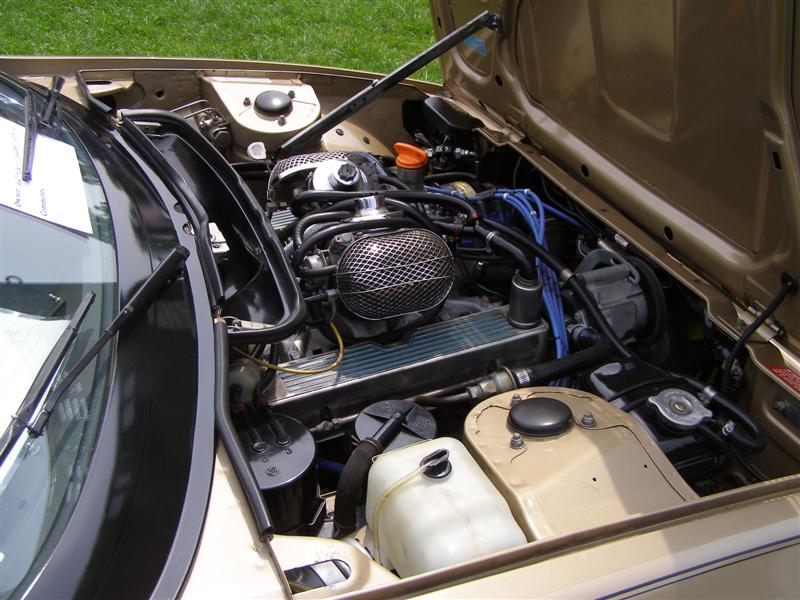 There was a good showing of Stag's and Jim's is on the end.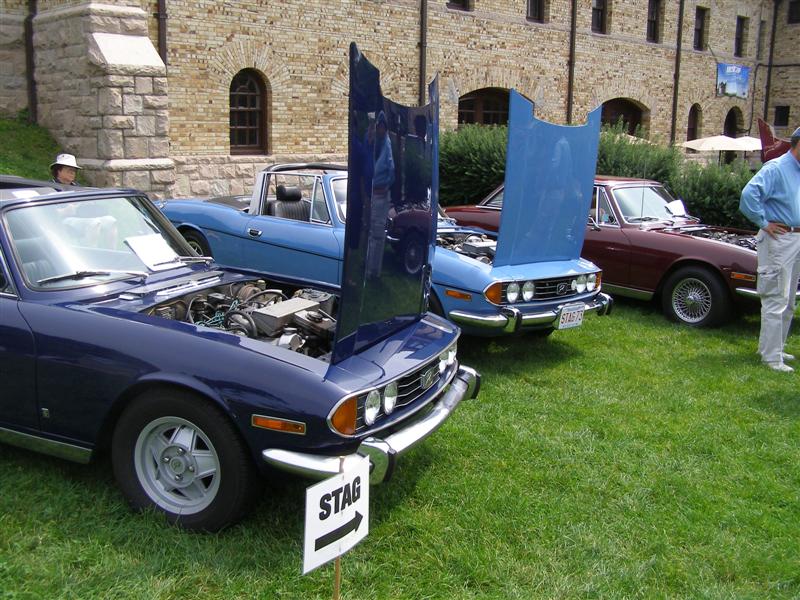 Thanks again to Dennis (Tracer51) for some nice pictures of John and his Stag. John gave a nice
presentation of his exploits and journey across our great country and the spirit of his cause. I did get to meet
John at the sandwich stand (my favorite hang out) and he truly is a nice gentleman and a really cool kind of guy.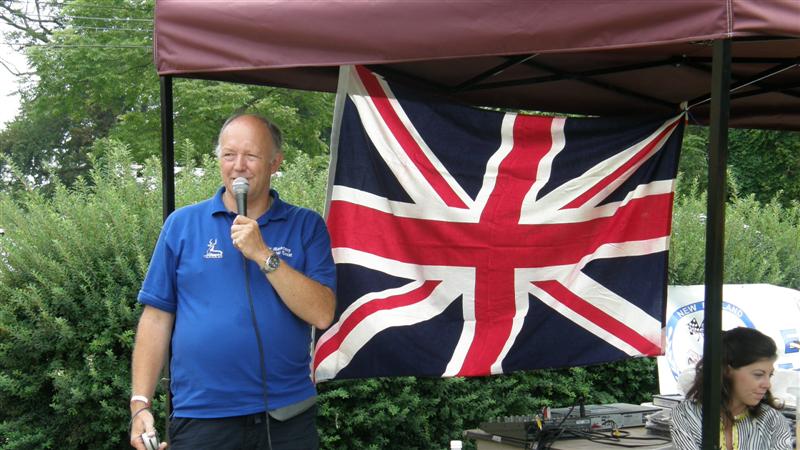 This is of course the Triumph Trans American Charity Drive car for 2009.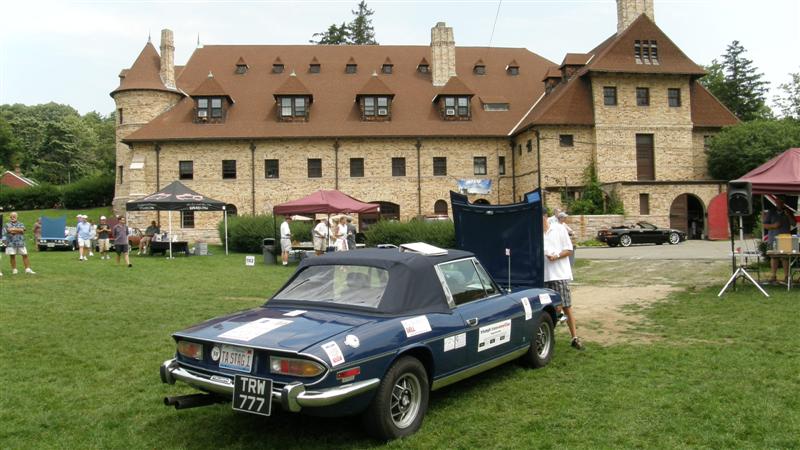 John drove down in the pouring rain from New Hampshire to make this event. This is a really great looking Stag.
Especially when it doesn't have all of those labels and signs all over it.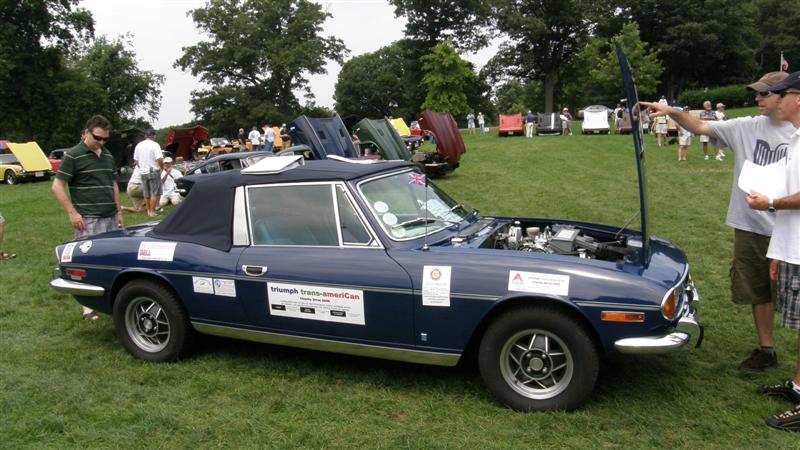 I am so glad that Dennis was kind enough to send these to me. Thanks again Tracer!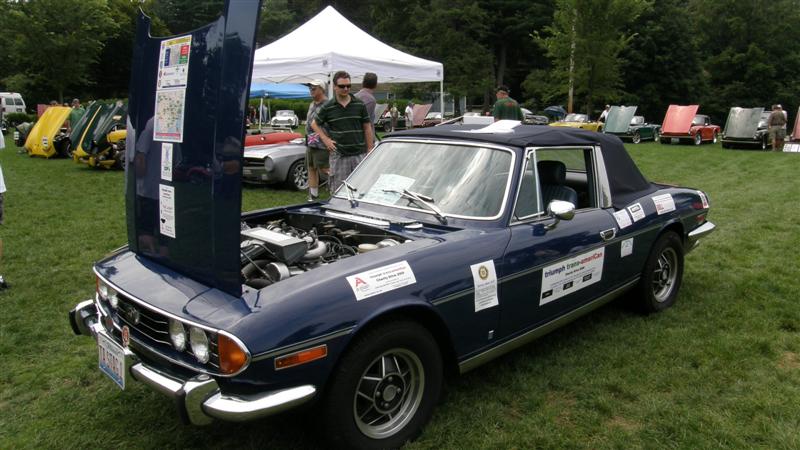 It was a good idea to have a chair, as it got really hot and muggy.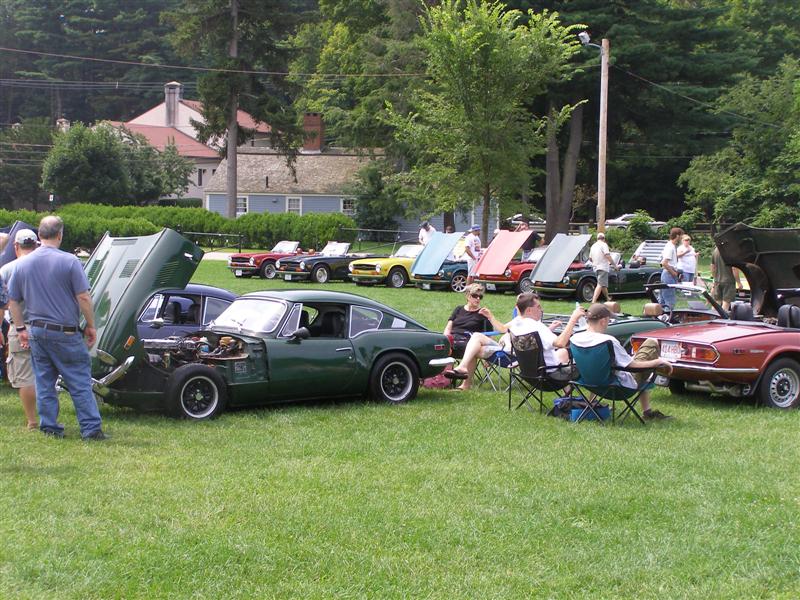 Another private tech session. That's the great thing about these shows. You can ask away and get answers in a second.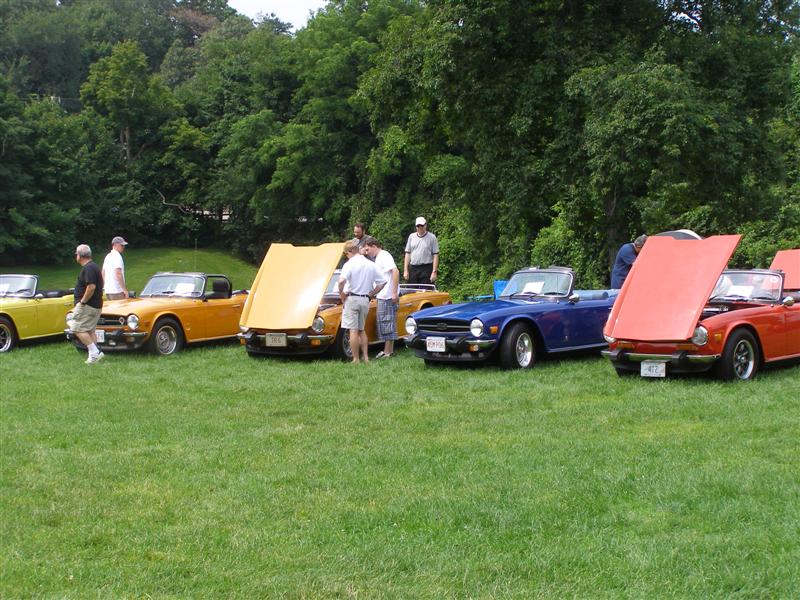 Thanks to Al Gary (Trick6), Howell Smith and Dennis (Tracer51) for sending me additional pictures to add to this page.
They are great guys and part of a great hobby.