This project started after I realized that I didn't have the time to wait for the gauges to come back from several sources that
I had contacted when I had the gauges out for my own refurbishing project over a year ago. It was probably better that it did
work out this way, because I was lucky enough to find Morris and West Valley Instrument Specialists in Reseda, CA.
I spoke to Morris and found him to be very customer focused and more concerned that I would get what I wanted done, than
several other gauge repair facilities who could only say, "ship the gauges to us and we'll call you with an estimate." So I decided
to have all of my gauges calibrated as well as having my tachometer converted to an electronic gauge that will work with either
the stock conventional points and condenser system or any modern conversion electronic ignition system available today. Names such
as Pertronix, Mallory, etc are among the most commonly used on these cars, although Morris can do a variety of conversions.
It would be best to specify to Morris what you are currently using for your ignition system and what you MAY plan to
use in the future, should any special exceptions need to be made in calibration or wiring.
Morris talked to me about the way that he performs the work and exactly what I would be getting for each price that he quoted. Now he
knew up front that my gauges were cosmetically fine, based on the work that I did previously and what is shown here: Gauge Refurbishing
The quoting was easy from there and the others had access to the same information, but were "too busy" to look at it as Morris took the time to do.
I have no financial interest and received no discount for any work done in lieu of posting favorable comments.
If any of this experience was bad, you all know that I would say that just as clearly as what I've said here.

Morris does have a new website. By clicking on his company name below, it will take you there.
Morris Mintz
West Valley Instrument Specialists, Inc.
Reseda, CA 91335
818-758-9500
For those so inclined to want to do their own, this is a link to Anthony Rhodes great 2002 article on Speedometer Repairs & Rebuilding in pdf form.

So we begin with shipping the gauges to Morris correctly so as not to incur any damage. This will be required, no matter who one chooses
to do this type of work. Most shops request double boxing and careful packing to insure that the shipping gorillas don't crush the valuable gauges.
Please note the speedometer cable in the bottom of the box. If you have your speedometer overhauled (more on that later) you must send the
cable and housing along to be sure that it meets the specified length and doesn't damage the newly overhauled unit. Yes, this includes a new one.
**** Viewers are warned that if they attempt any mechanical repairs or modifications,
or follow procedures referred to here, they do so at their own risk, and no liability will
attach to either myself or West Valley Instruments Specialists, Inc.****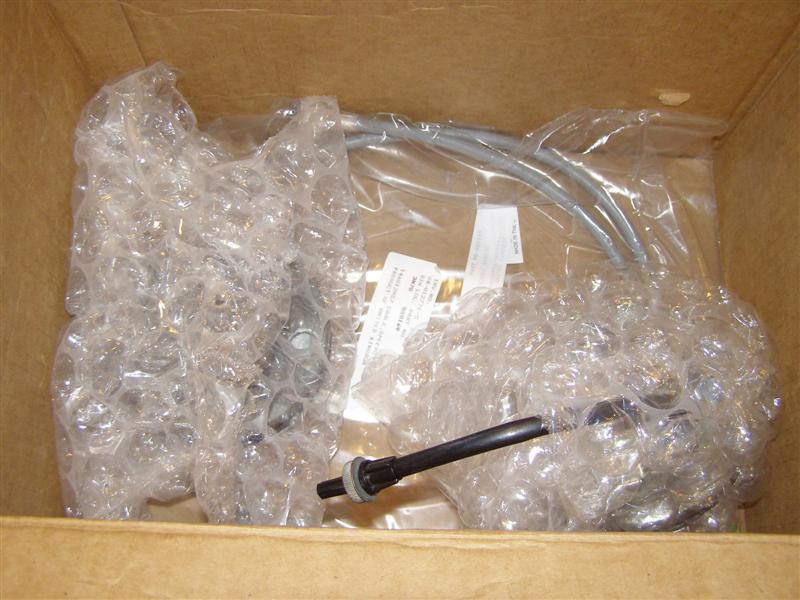 Wrap each gauge with several layers of bubble pack.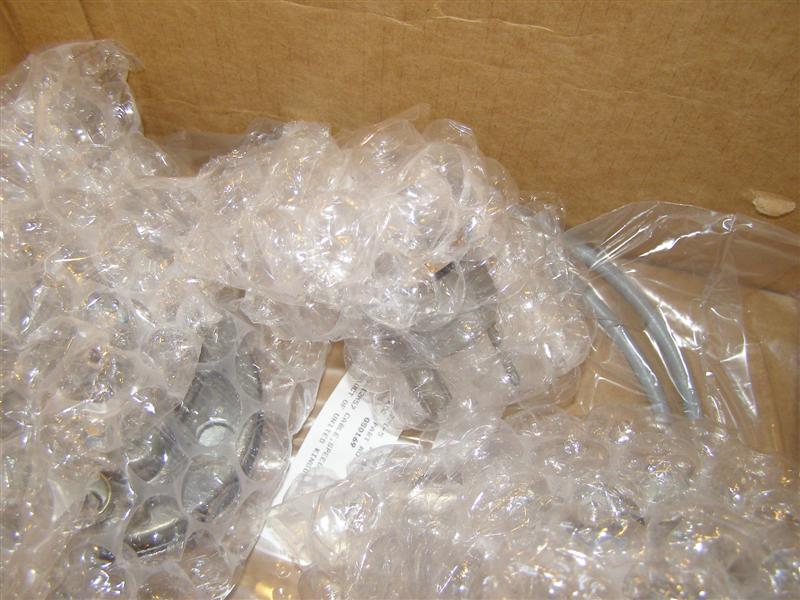 It's a pain, but necessary, unless you have ready made containers that will cushion the ride to California.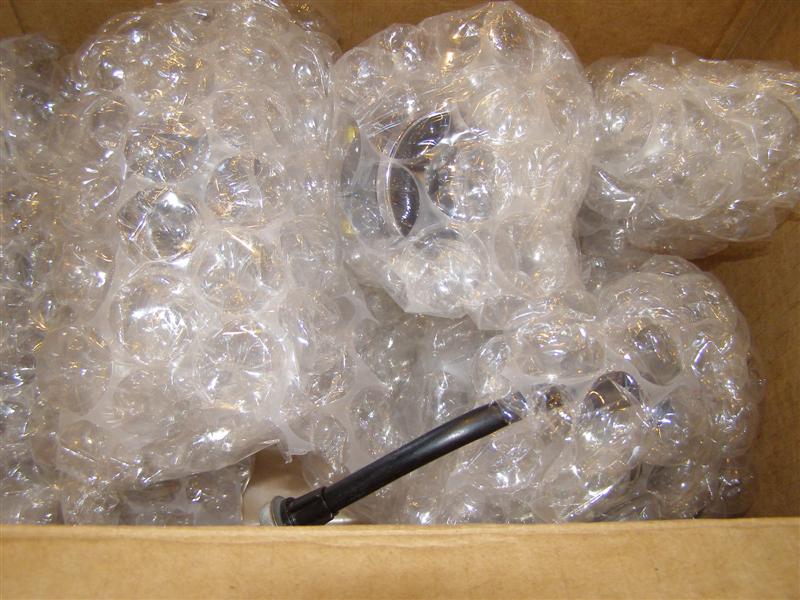 Finally, fill the box with shipping popcorn and seal it up securely.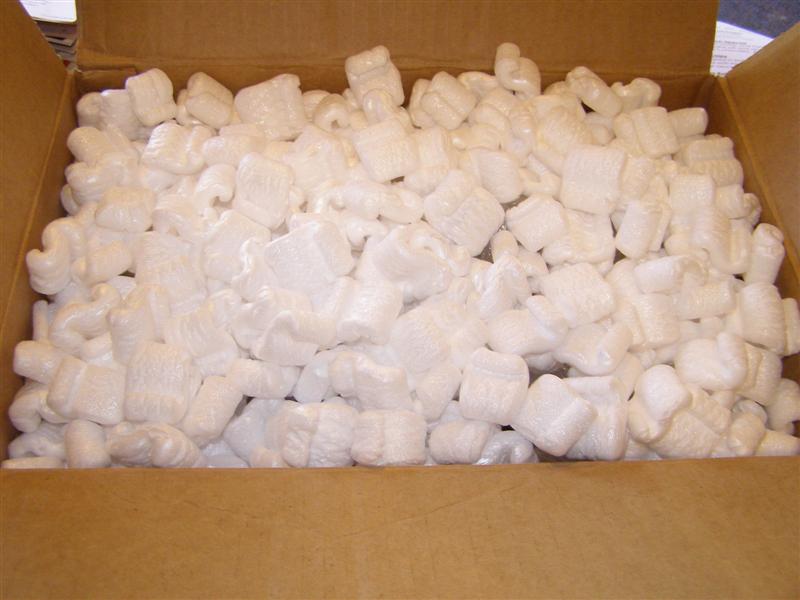 Now this box is ready to go inside another box and will be surrounded with popcorn as a double cushion.
Tedious, but there is only one set of the gauges that are in this good condition and they are inside that box, so I don't
want to have a problem with any shipper about how they were packaged, should any damage occur.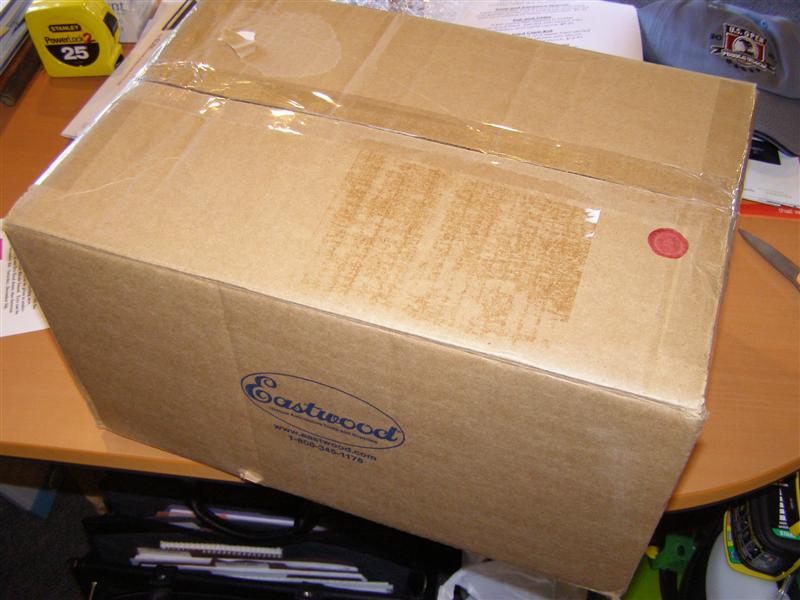 And just to remind you before starting, clearly tag every wire and light. Your memory will not be that good
by the time that the gauges get back and you don't want to do the assembly more than once.
And the painters tape does protect the vinyl, column and the wood on the dash during the time you will be
squeezing your hands in behind the dash panel to hook up everything to the gauges and switches.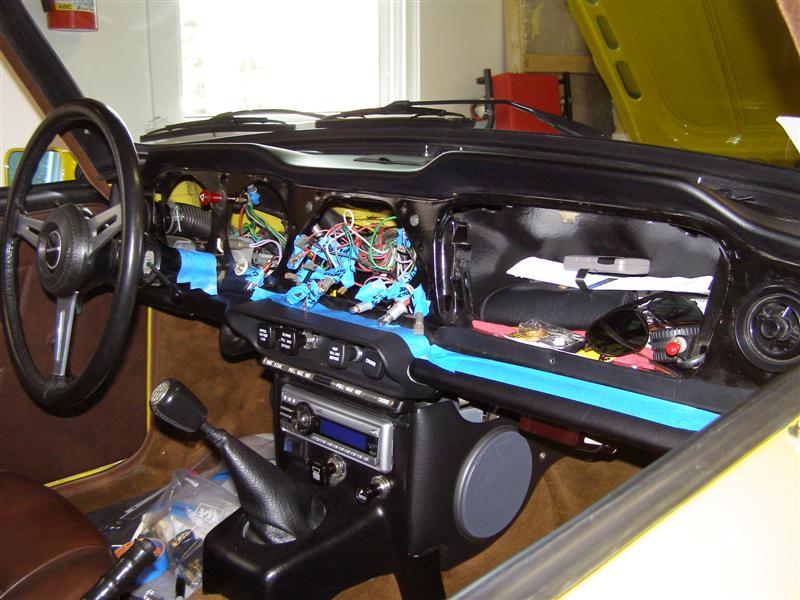 The depth of this is important in the final construction of the tachometer conversion.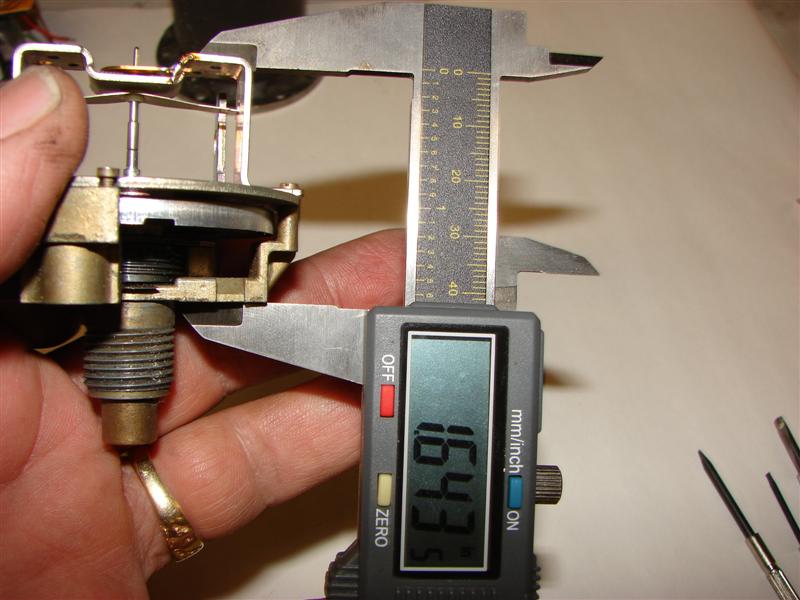 This will be the new electronic tachometer drive unit, replacing the old cable driven mechanical unit.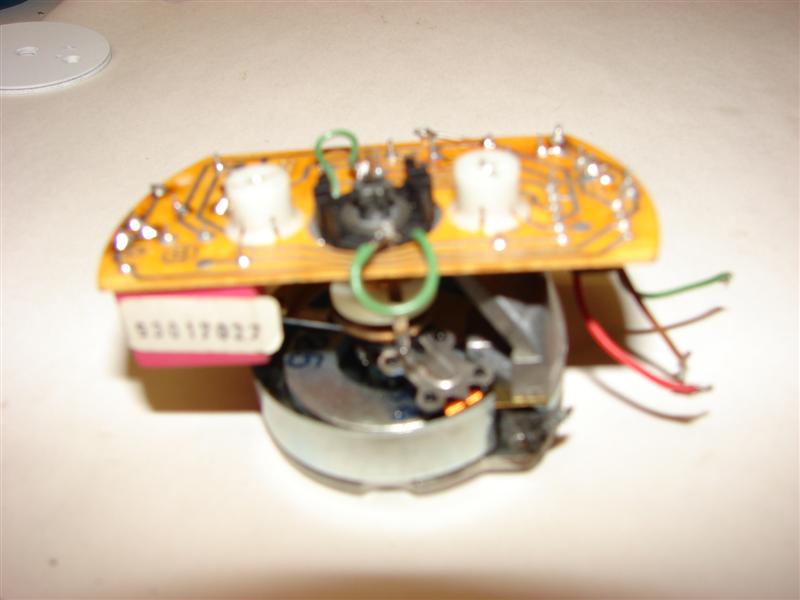 Again, Morris takes more measurements.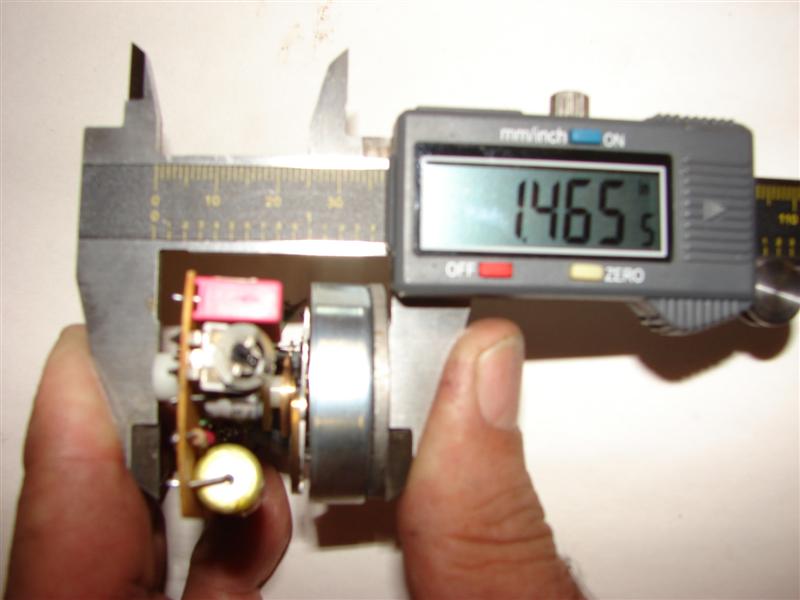 Spacer plates are made to match the needed holes.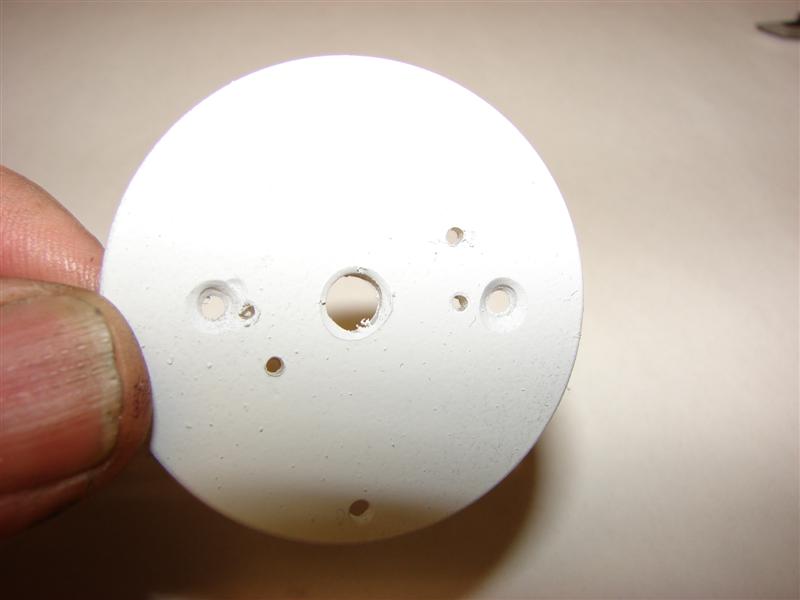 Clear plastic that will be painted as shown below.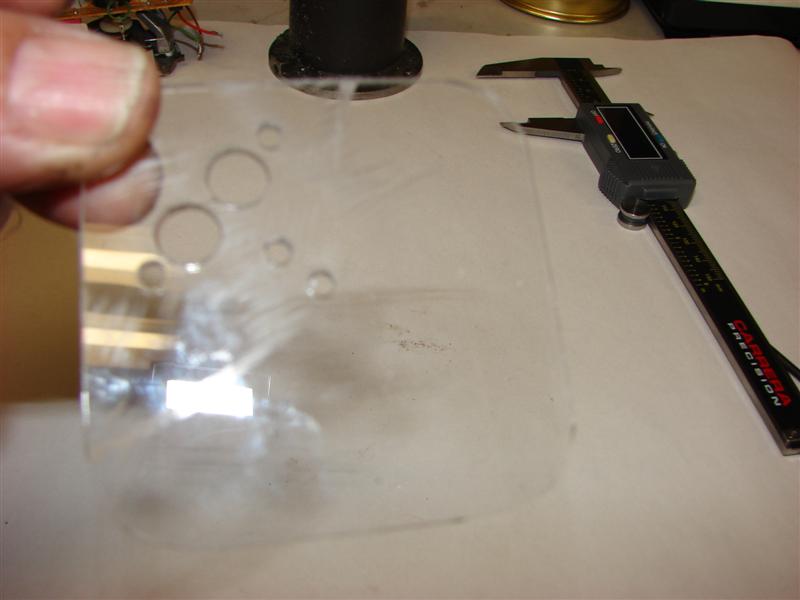 This is now ready to be assembled.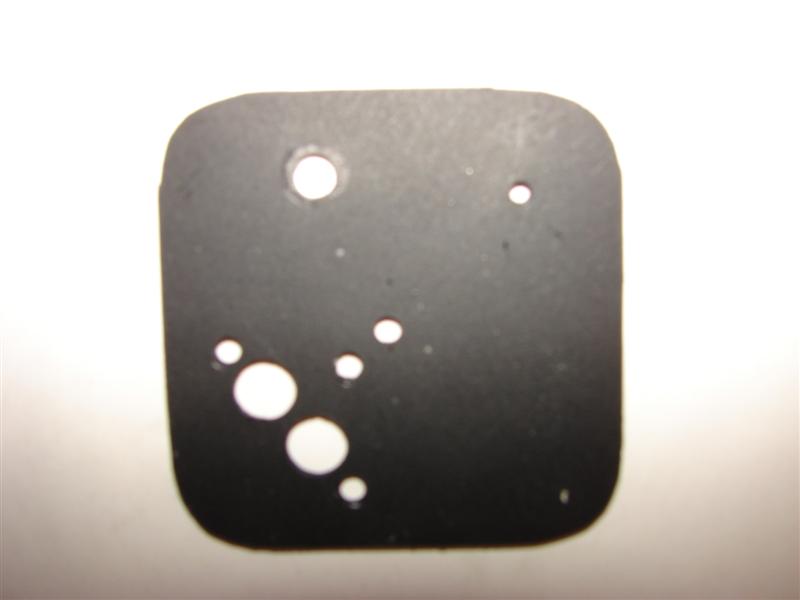 A little more tolerance stacking, so to speak.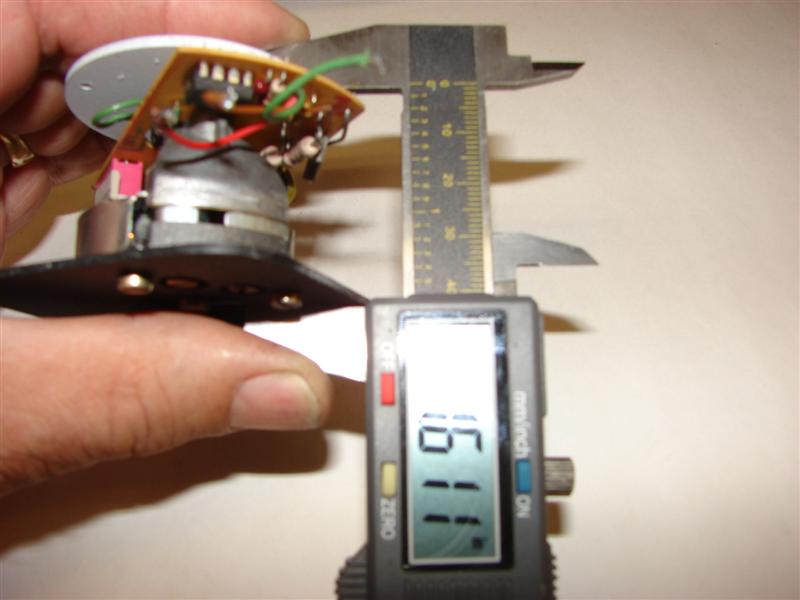 Now it fits at the exact same depth as the previous mechanical unit and will not make the tachometer
appear to be anything but original when viewing it from the front.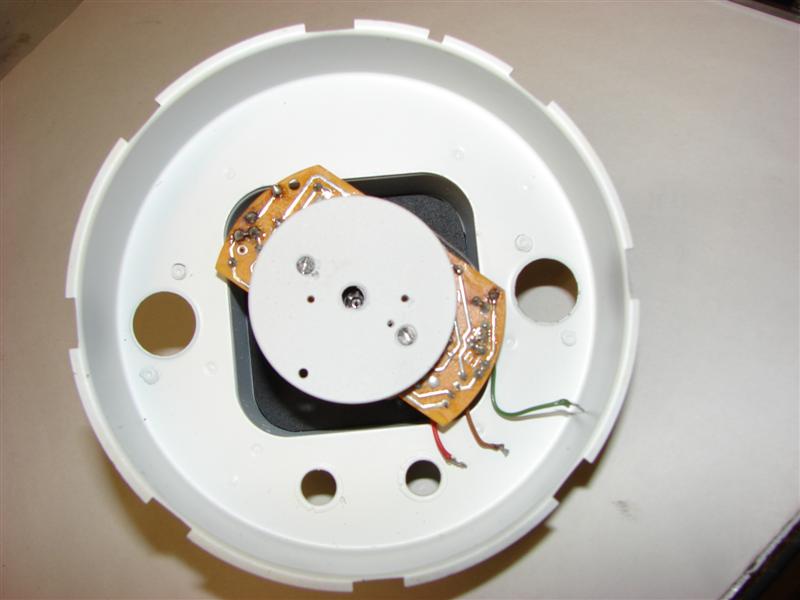 Notice that there are no holes drilled in the front of this or any overlays applied to the original face?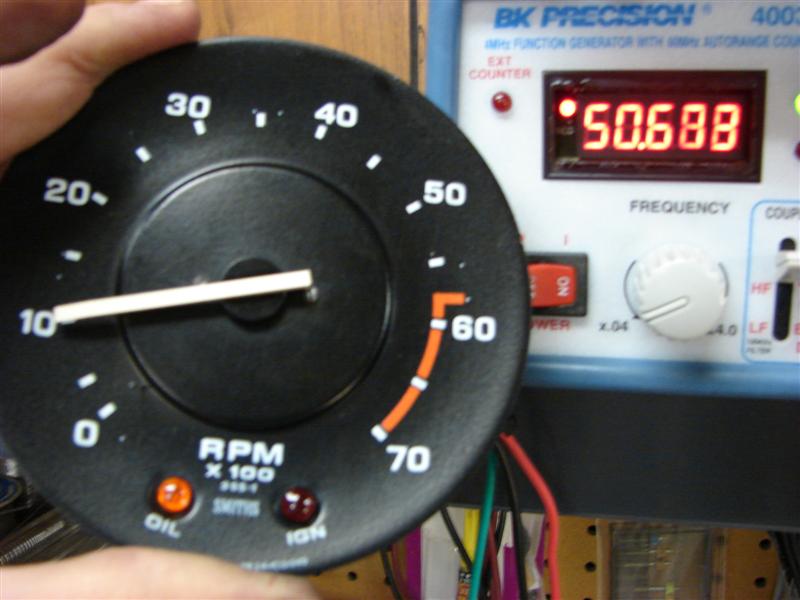 Dead on the money when factored up the required 2X.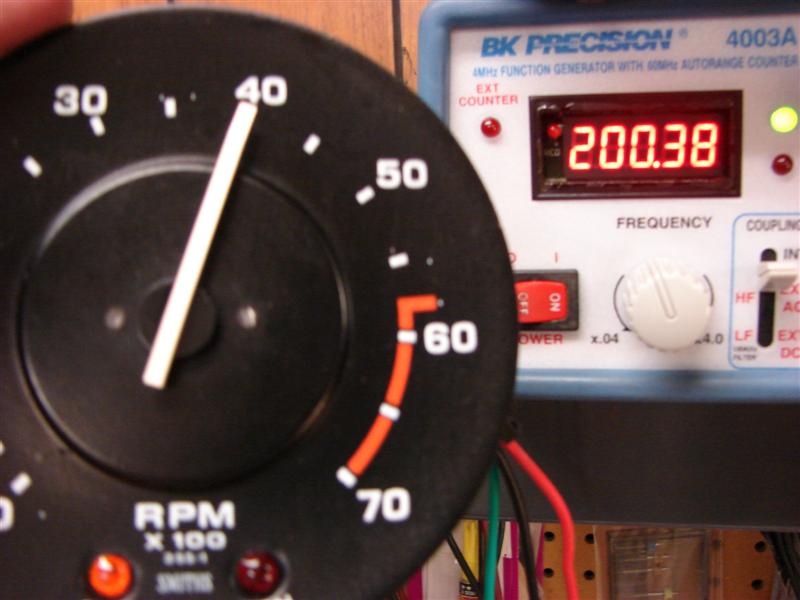 No way to tell that from a factory TR6 tach unless you look at the back and don't see the needle bounce when it's cold.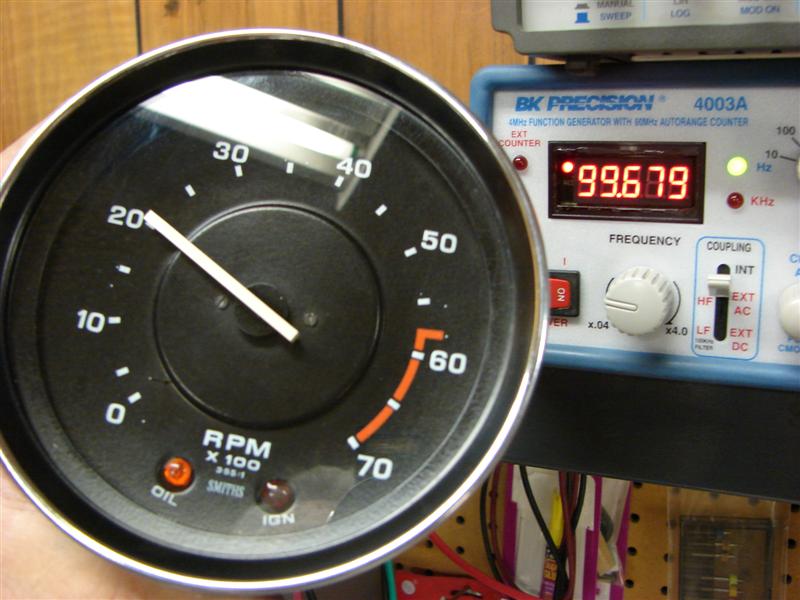 Now for the little guys. These boxes are getting very scarce these days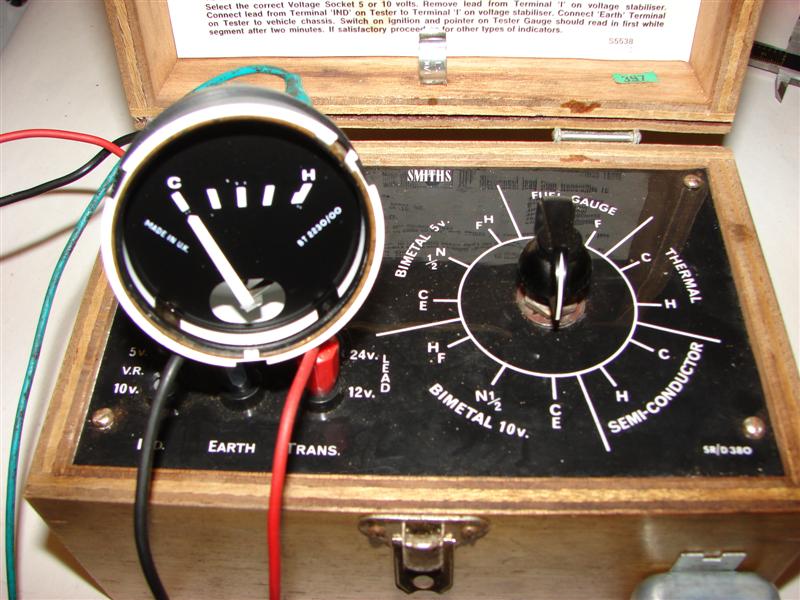 That looks good. I don't want to overheat.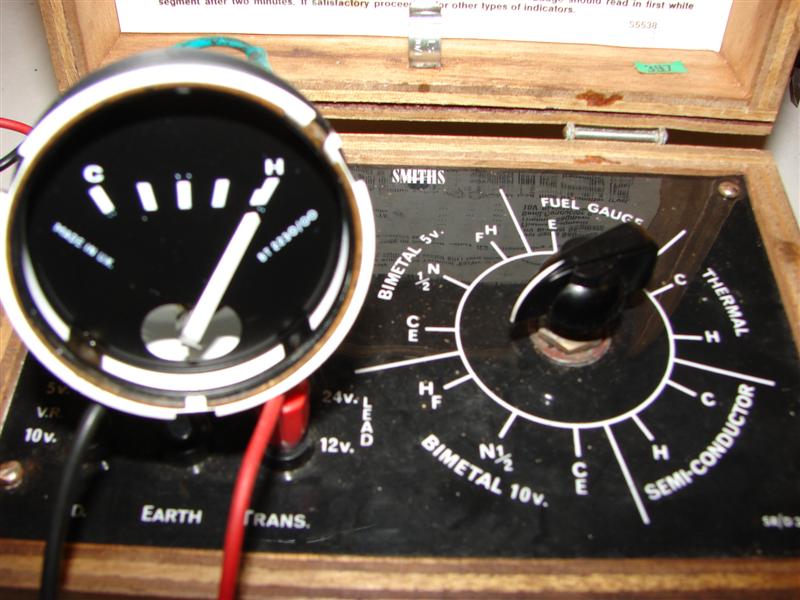 Another important gauge. Can't drive far without gasoline.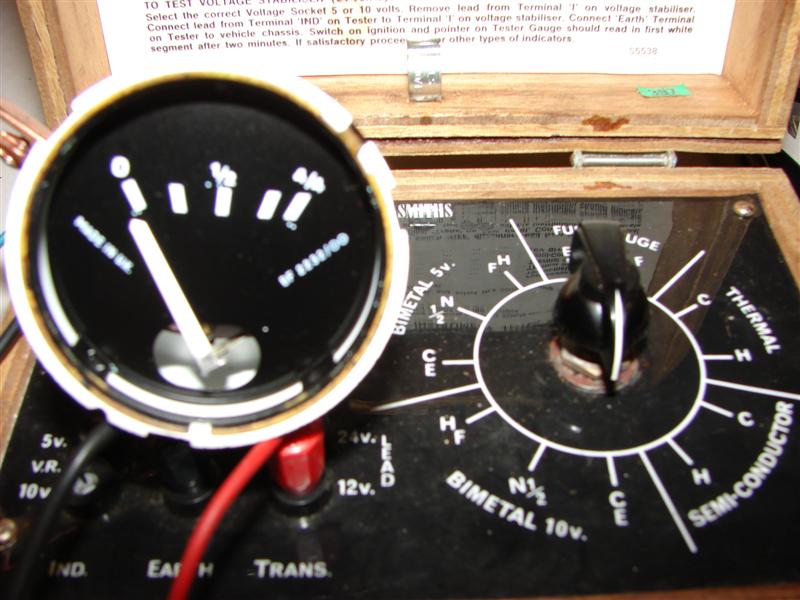 Moving right along.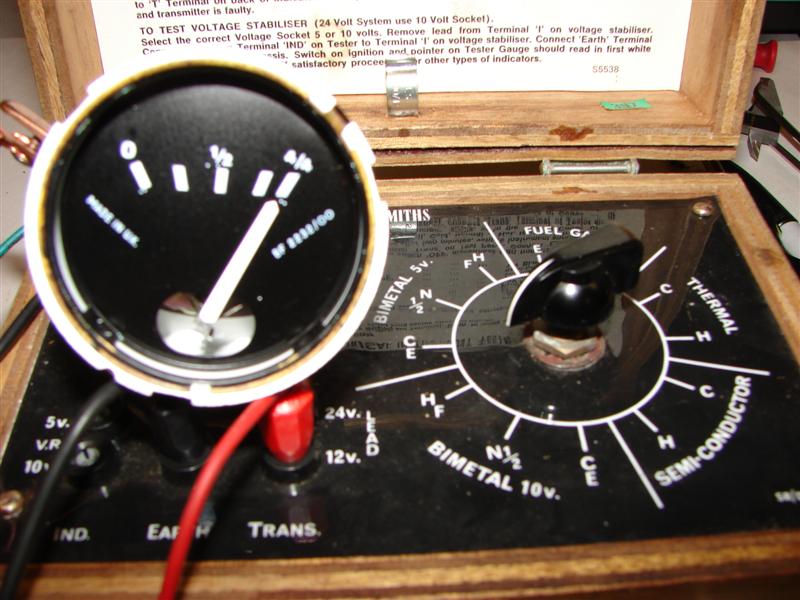 I guess that Morris wanted to go digital for some reason on this one.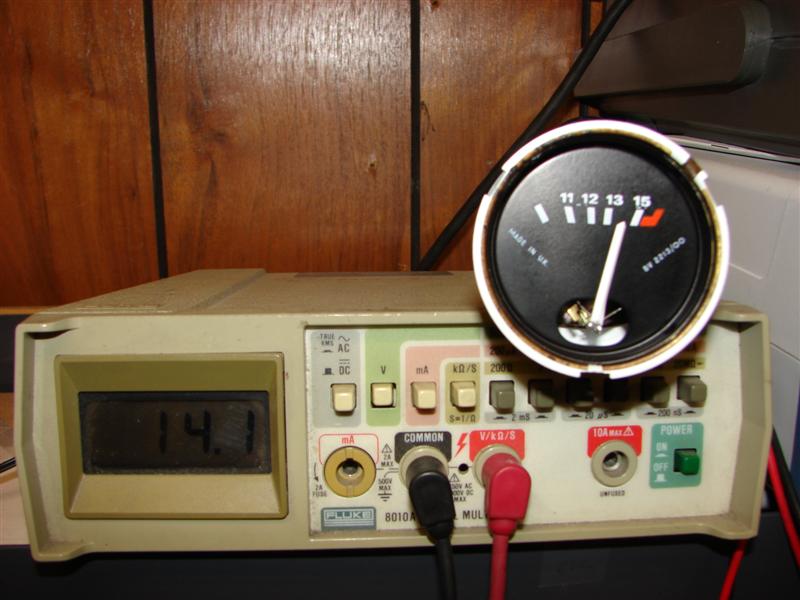 Works the same when all buttoned up. That's a good thing.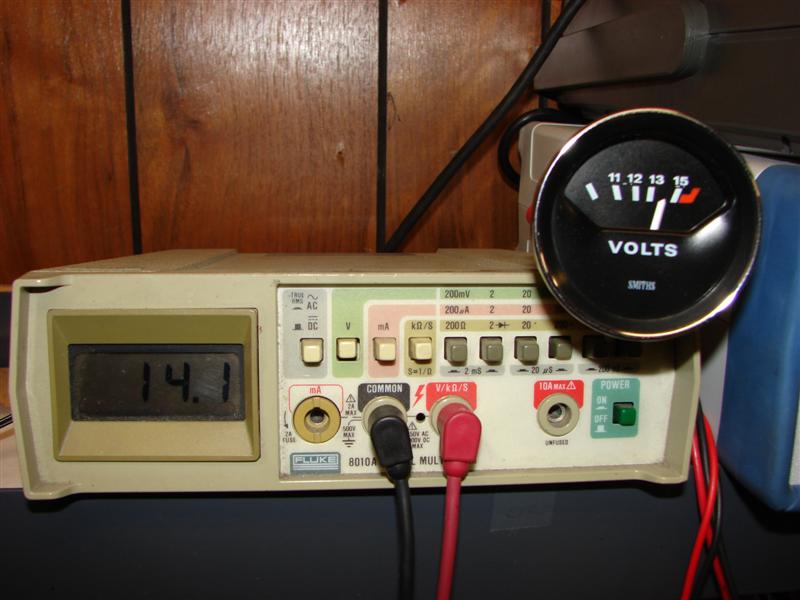 Now for Mr. Oil Pressure. As it turned out, the bourdon tube in mine was getting shakey.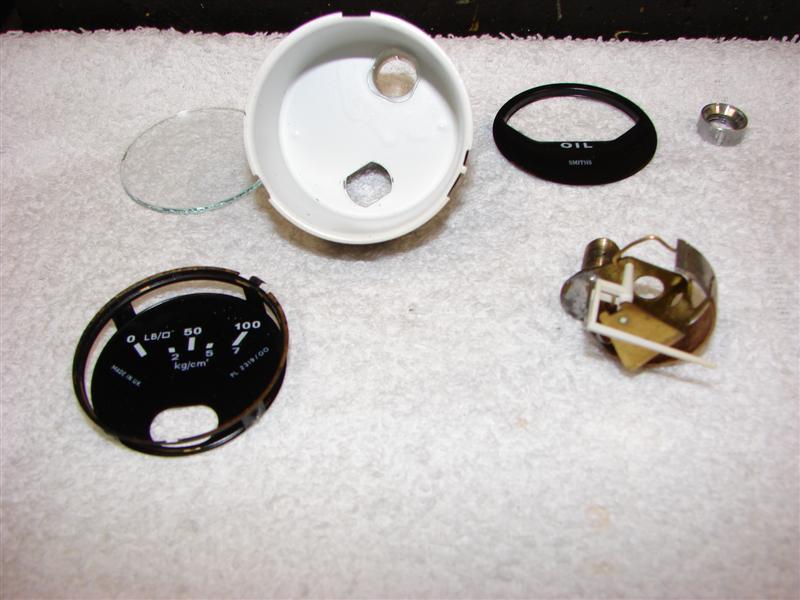 Now was the time for a new unit. Too much invested in the engine to take a chance on inaccurate readings.
.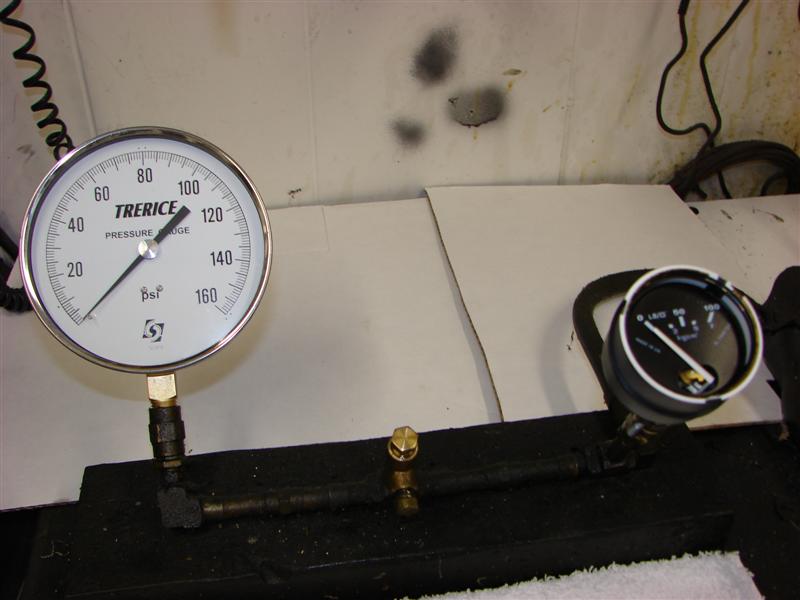 Of course, this is purely mechanical.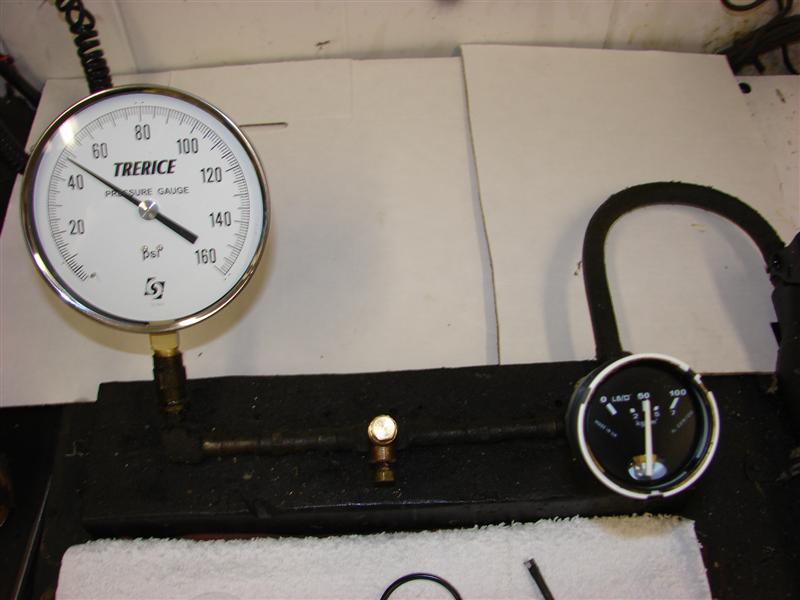 That's a nice number to see, but it only lasts until the oil gets warm.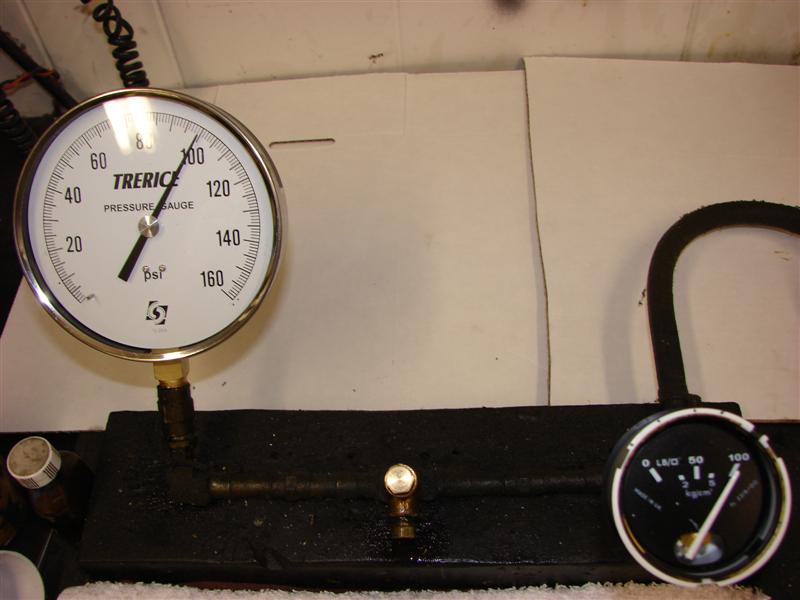 And again, pretested after assembly and prior to shipping.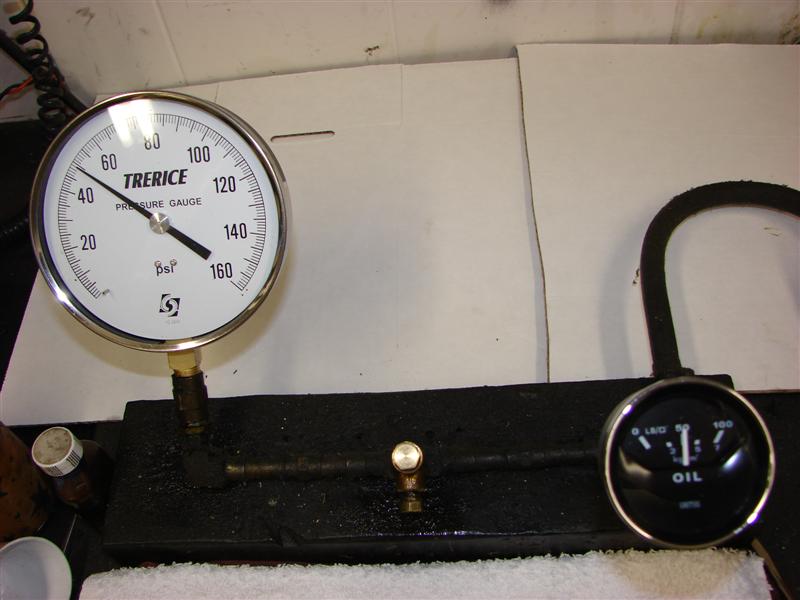 The speedometer was quivering around the 30-32 and 55-56 MPH ranges, so it was time for a cleanup.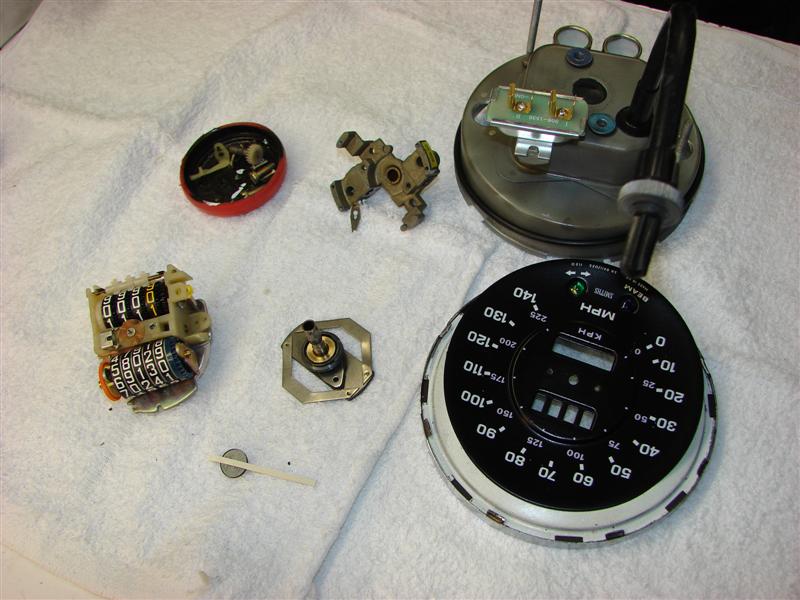 When I stated that the speedometer would get an overhaul earlier, it was because this unit has to
come completely apart to be properly cleaned, lubed and checked, so the labor doesn't change.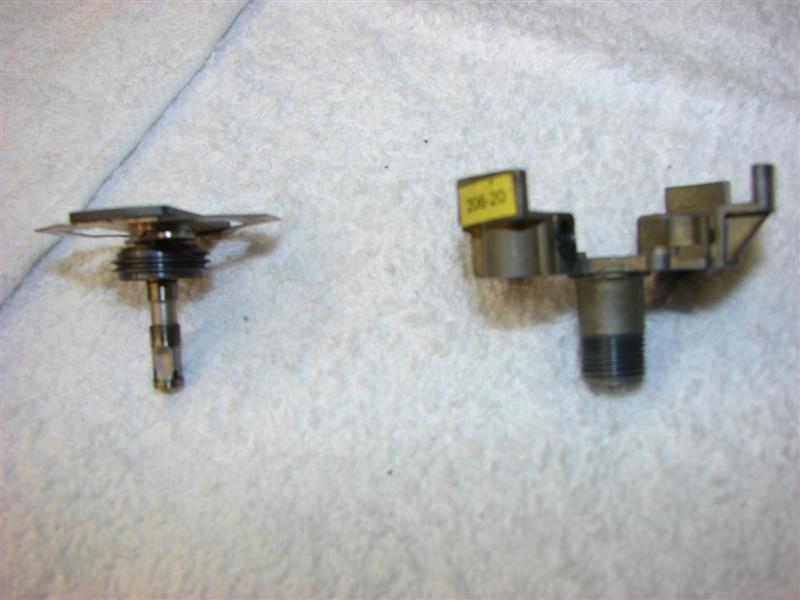 As it turned out, I needed a few minor parts, but it's better than new now.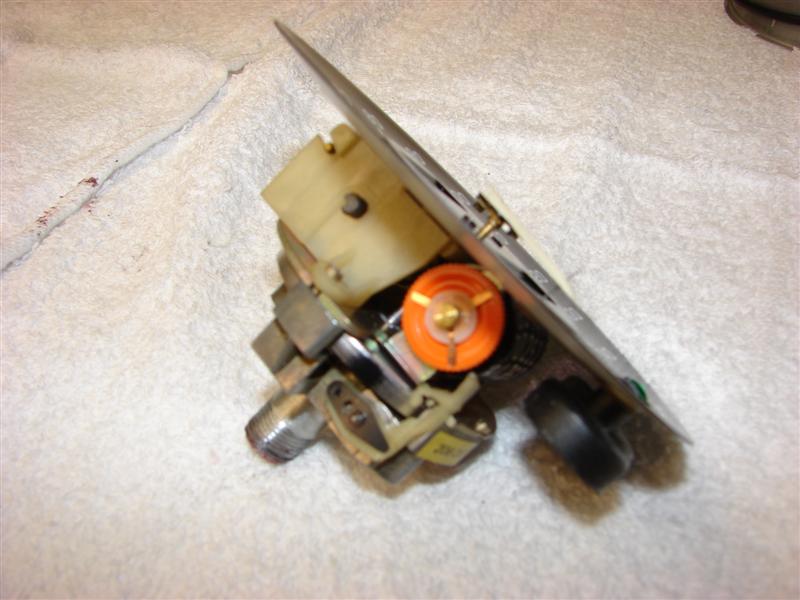 I had cleaned all of the gauge faces when I painted the cases last year.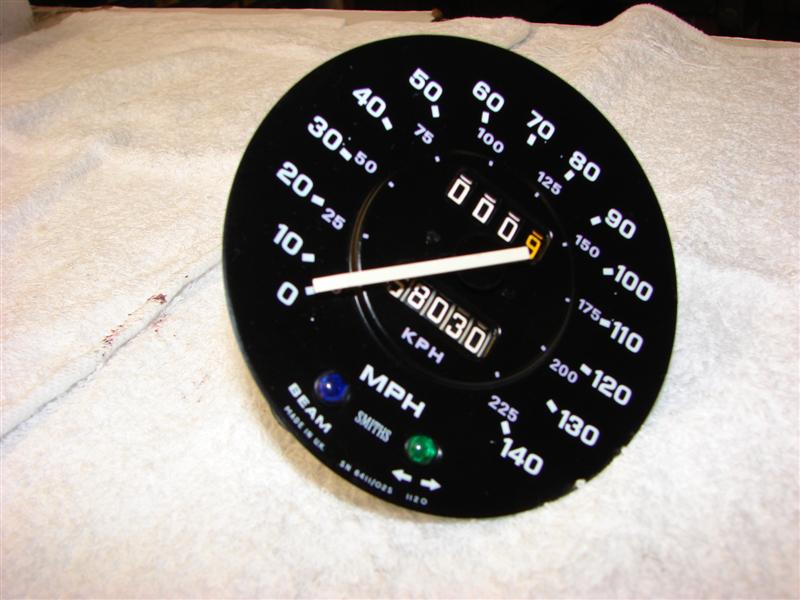 That looks good. No more shaky needle at any speed.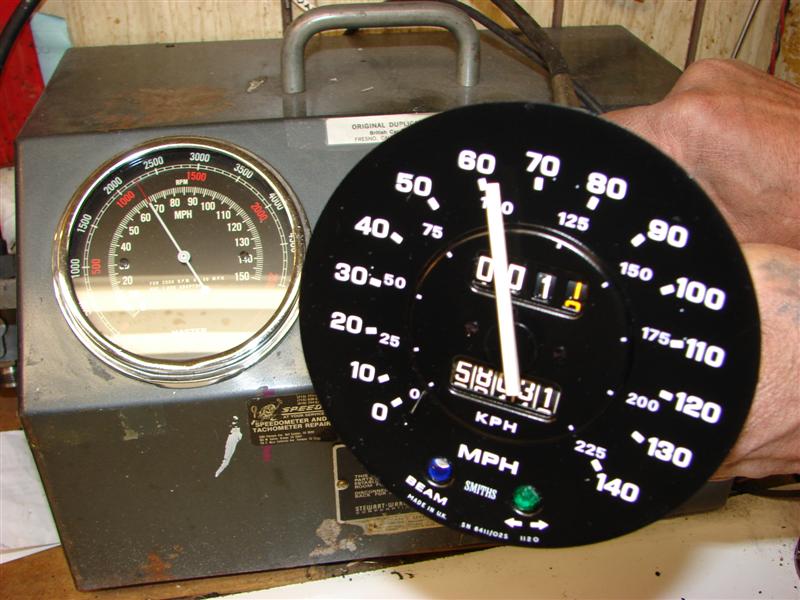 Morris is supplying this to all of us. This is the tech bulletin that went to all Smith gauge BMC dealers
back in the 60's. Many new speedometer cables are not cut properly and they can ruin a good speedo rather quickly.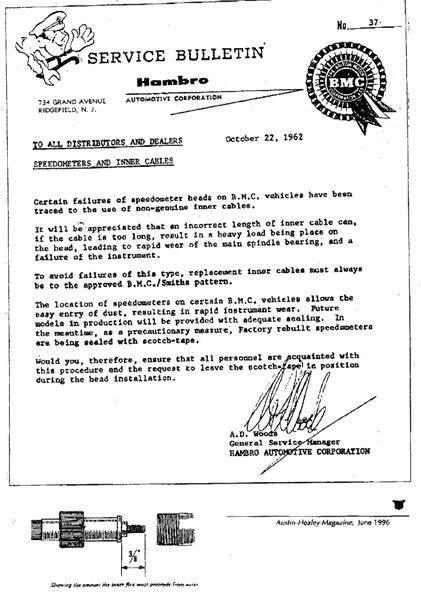 You can download the pdf file by clicking here: Tech Bulletin for Correct Speedometer Cable Length
All ready to come back to me.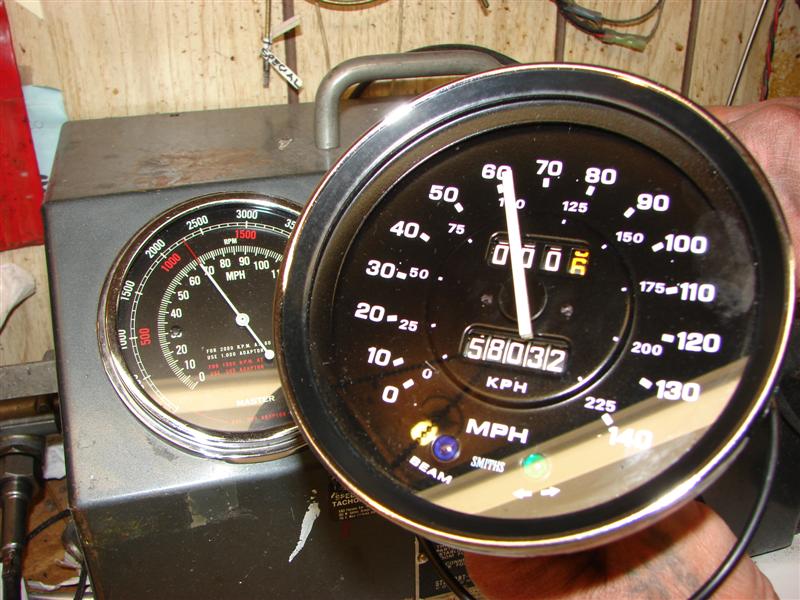 Fifteen days after sending my gauges to Morris, they are back home, safe and sound.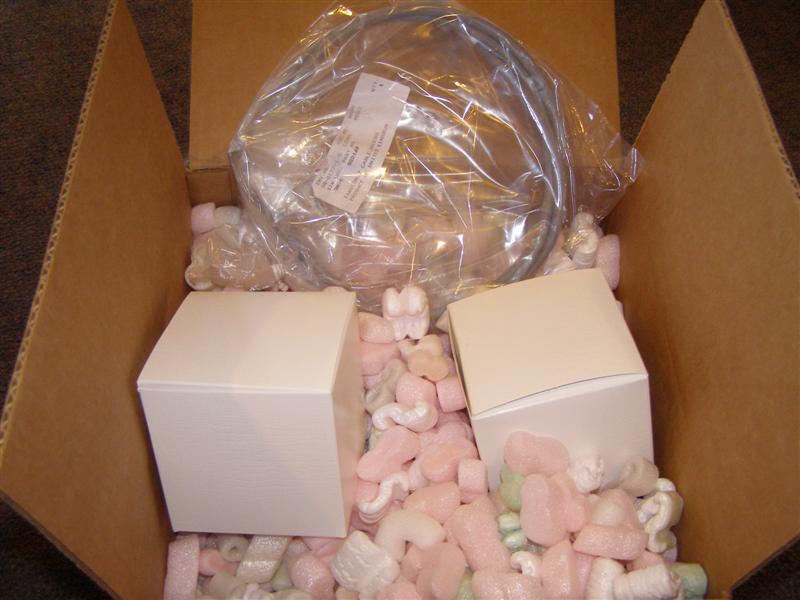 I sent along a brand new cable to be checked and Morris did have to trim it a bit to match the 3/8" spec above.
Very professionally packaged to prevent damage and each gauge was sealed in a plastic bag inside the boxes.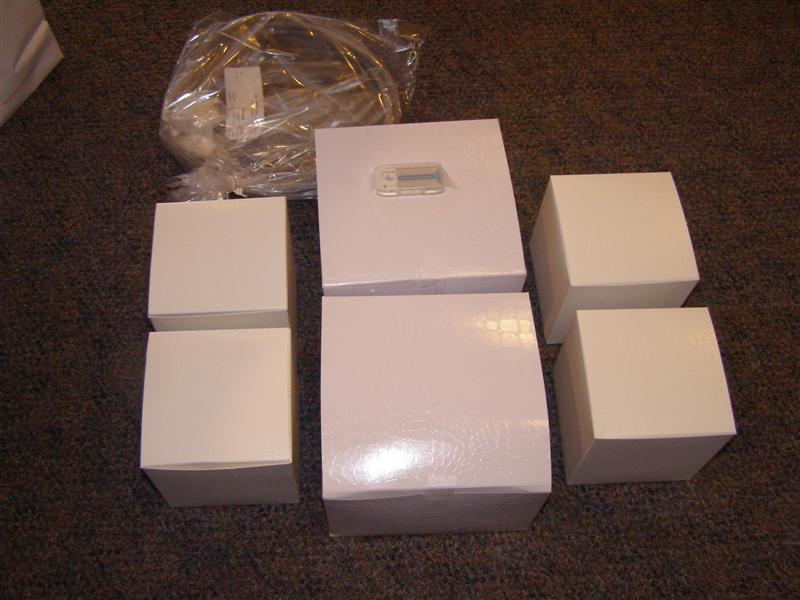 This is the back of the newly converted tachometer.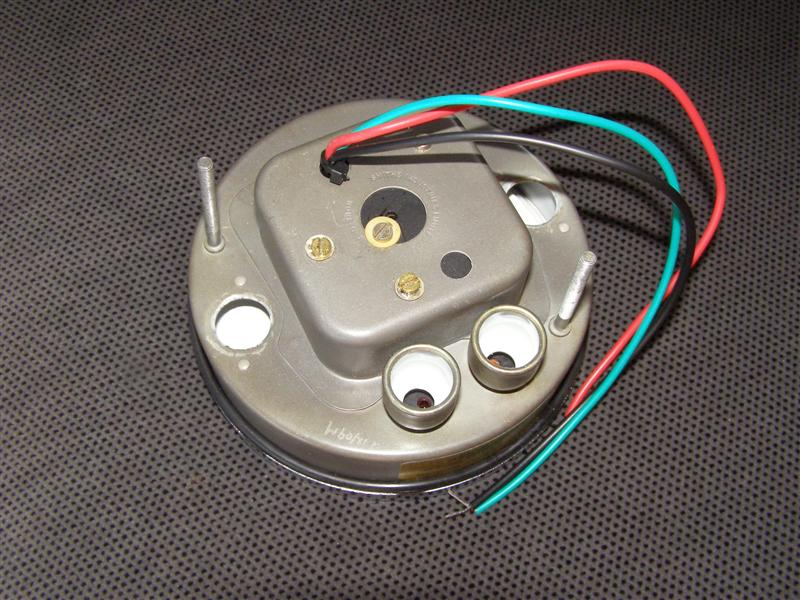 Red goes to the "B" terminal on the voltage stabilizer on the speedometer. Green goes to the (-) negative
terminal on the ignition coil and black will go to the ground that I'm installing on the alternator bracket.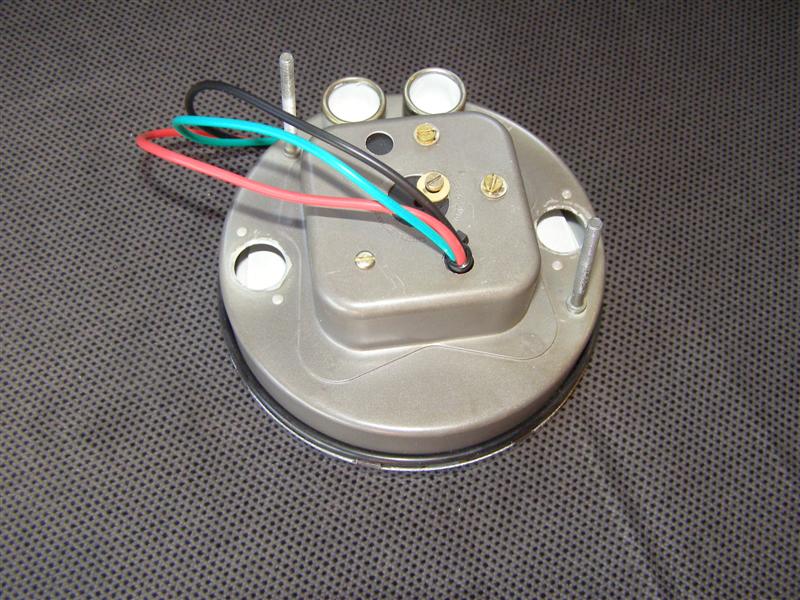 Time to start putting things back together again.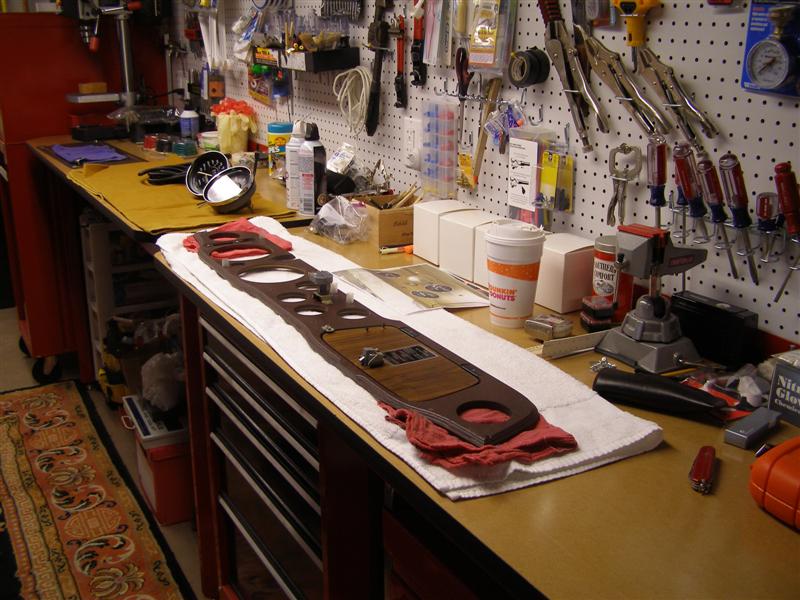 These look better than when I sent them and they looked great then.
A little promotion spot for Morris.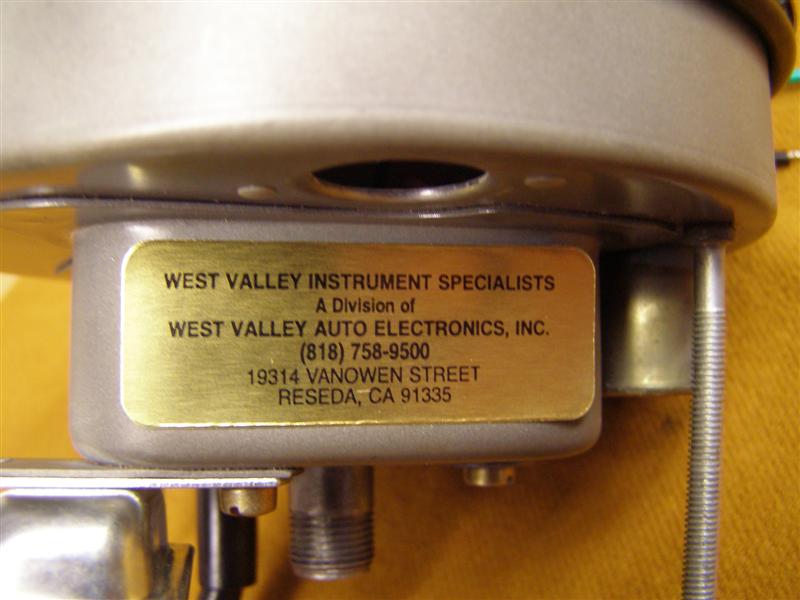 This is where the Red wire from the tachometer will be attached at "B".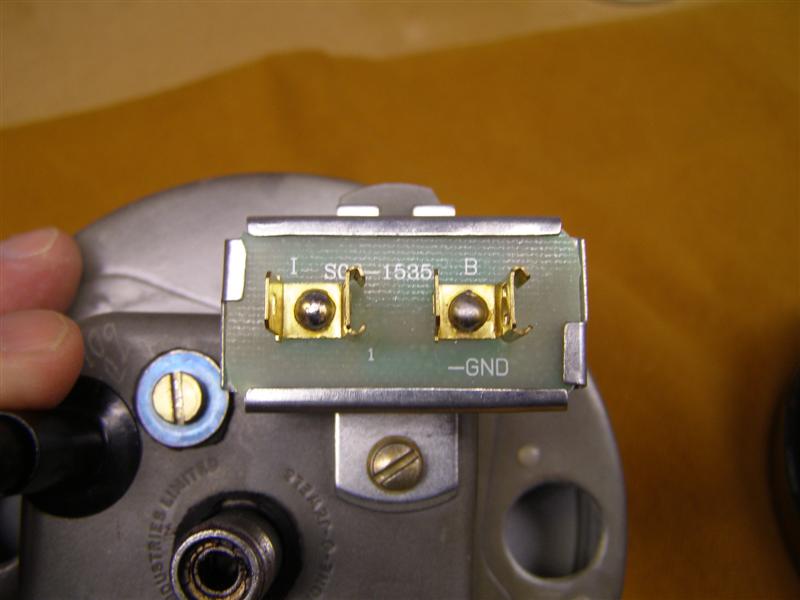 The picture is so that I don't have to rearrange the gauges after I install them.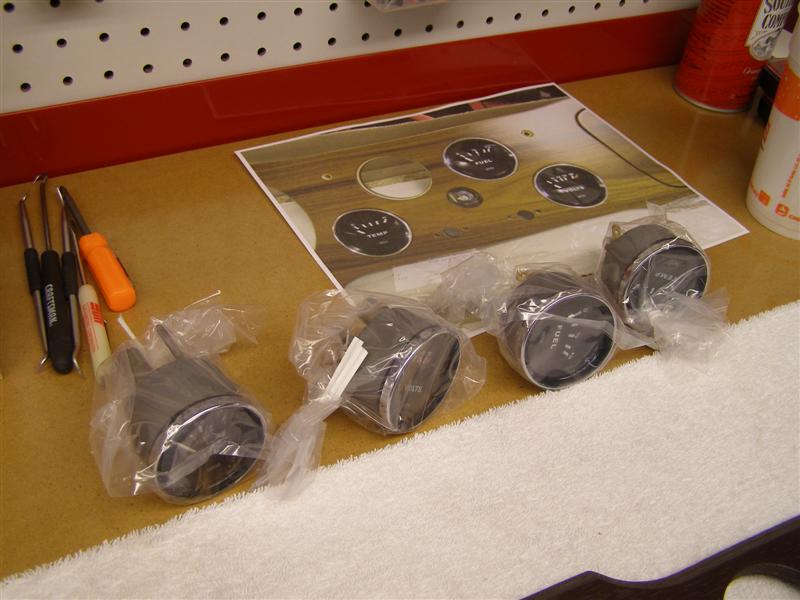 Each gauge and it's attaching brackets. Looks simple.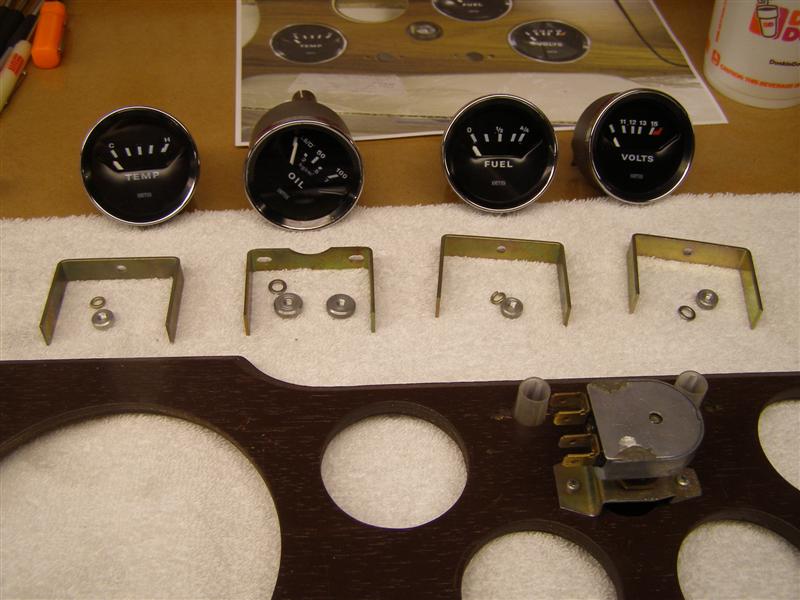 Notice the difference and why?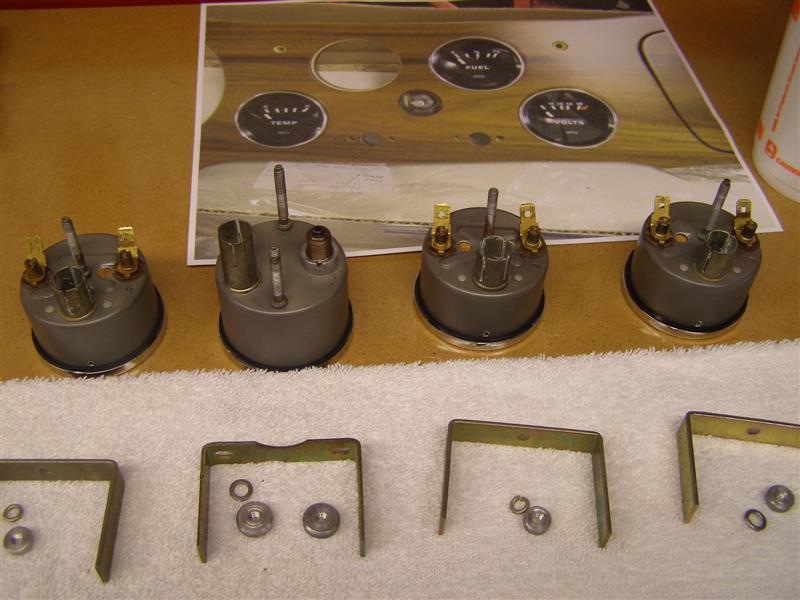 The speedometer and tachometer have different brackets and are installed after the wooden dash panel
is completely finished and installed in the car.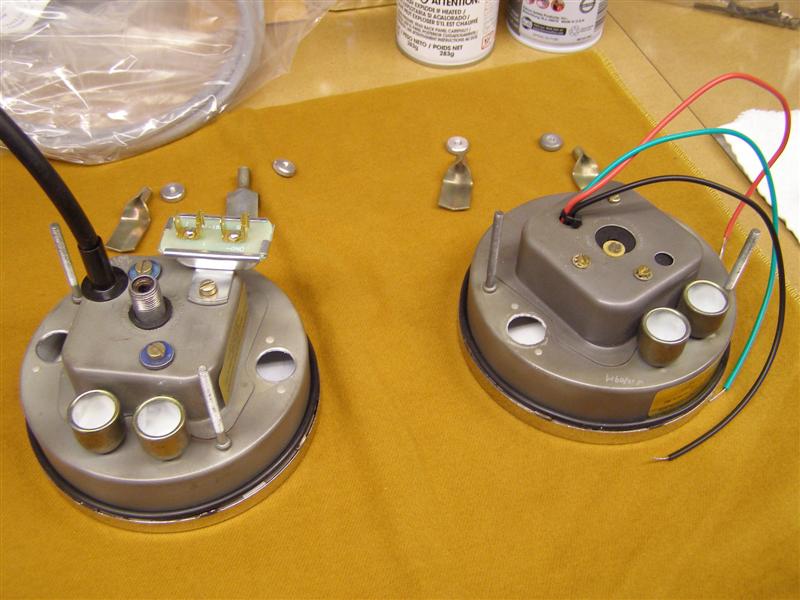 I wasn't paying attention and installed the oil pressure gauge bracket backwards. That and the sloppy
alignment of the three other brackets will make putting the oil line and electrical connectors a bit hard to do.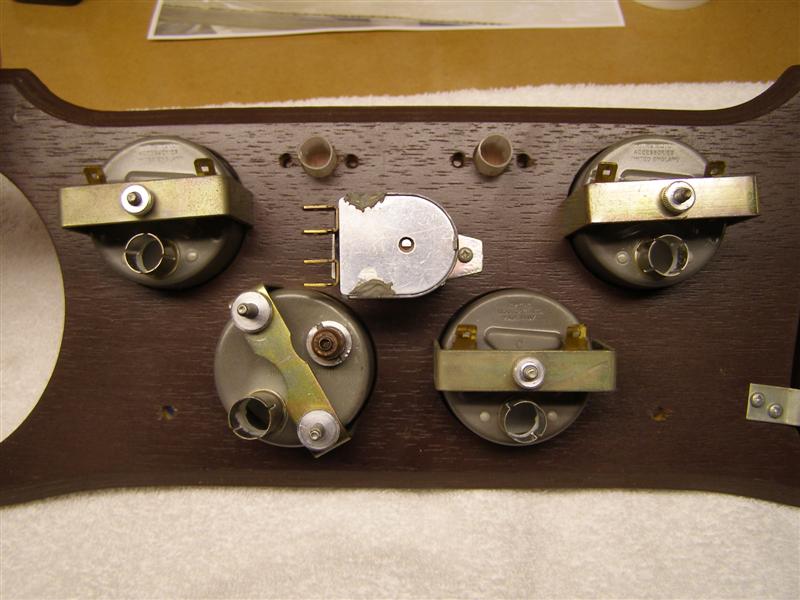 That's much better for the oil line to fit properly.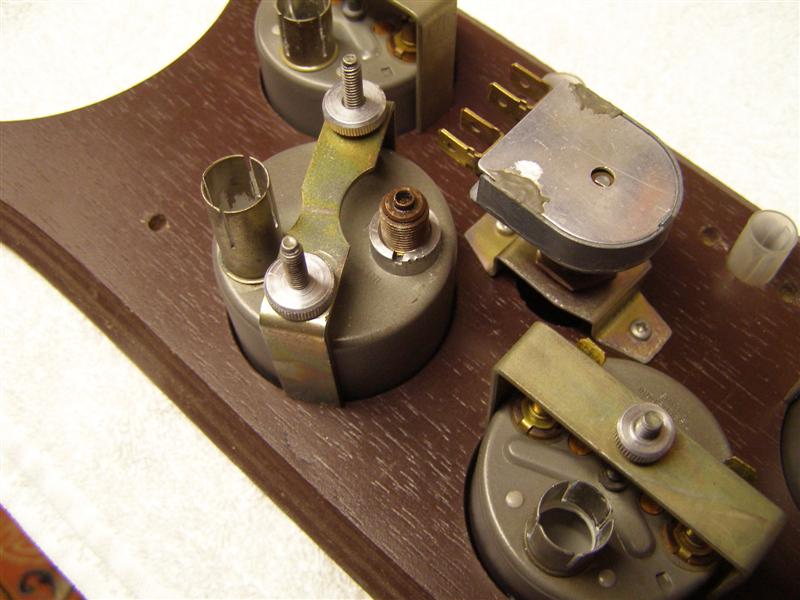 Everything lined up as it should be. Better now than having to pull it out again later.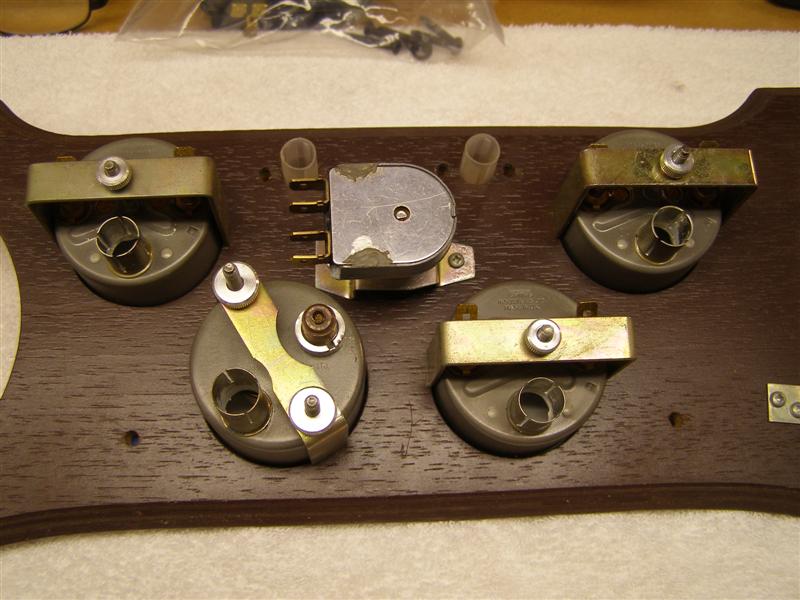 A fake out with the big guys, but they look good all back in place.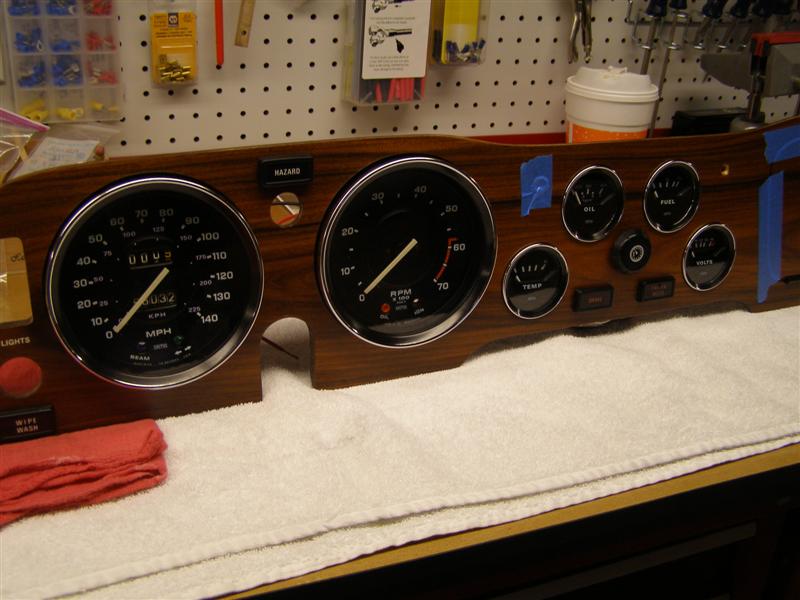 Now it's time to start on a nice neat tachometer harness to replace the cable.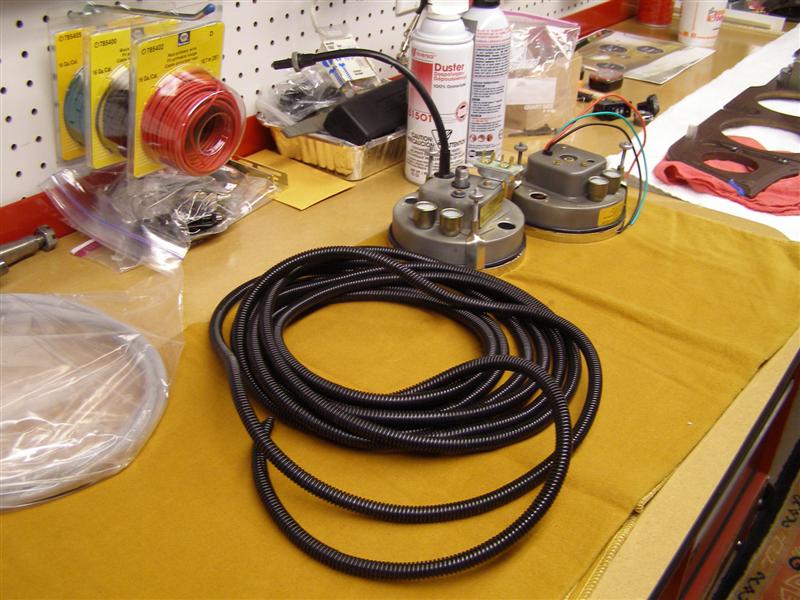 These little portable vises are great for soldering and heat shrink applications.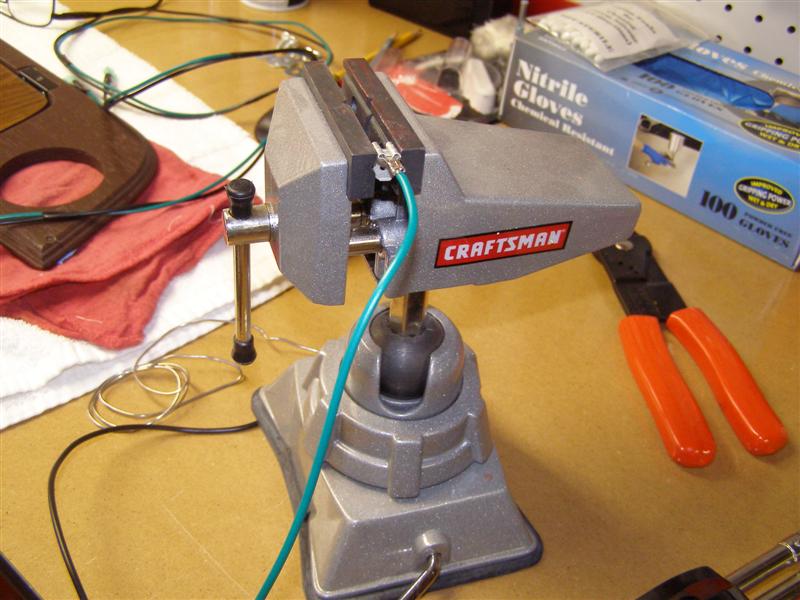 I wasn't sure if there was room on the stabilizer, so I added a double clip that will allow another plug in.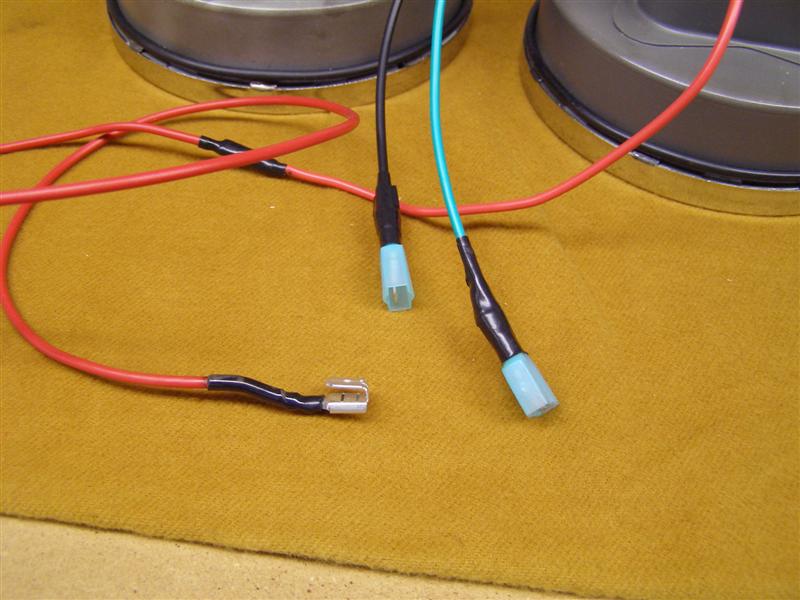 These will make installing and removing the tachometer a lot easier and will protect against sparks if metal is touched.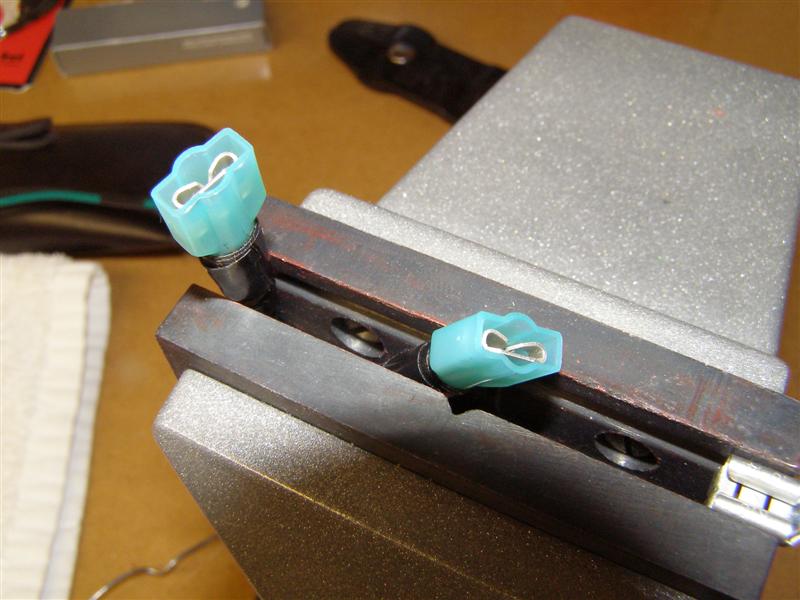 Make sure that you have the heat shrink on the wiring BEFORE you solder the ends on. Then
you can slide it in place and heat it on to seal everything up accordingly.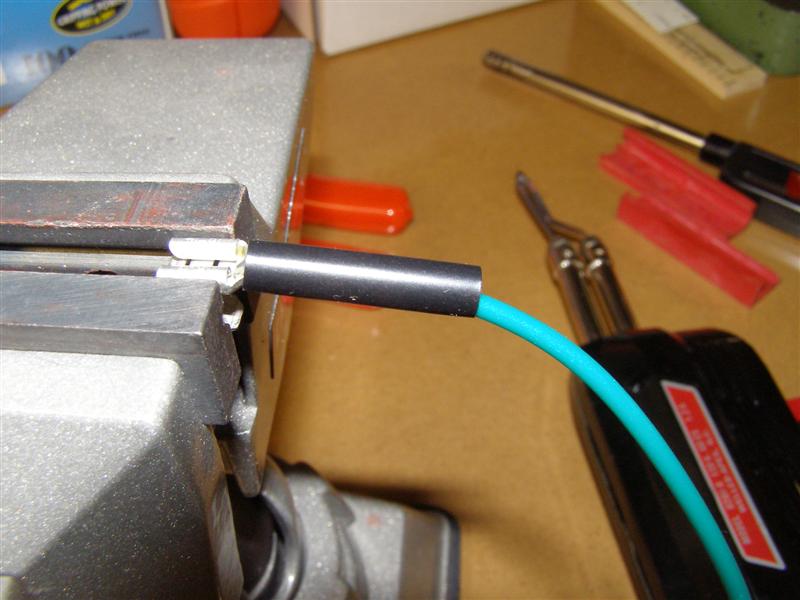 Heat around the shrink uniformly to make its seal evenly and tightly all around.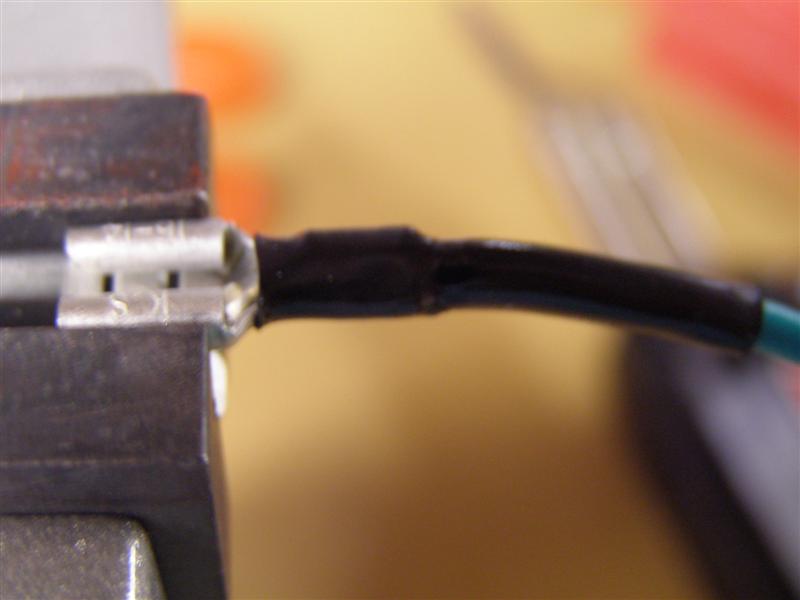 These guys are all ready to go on the tachometer.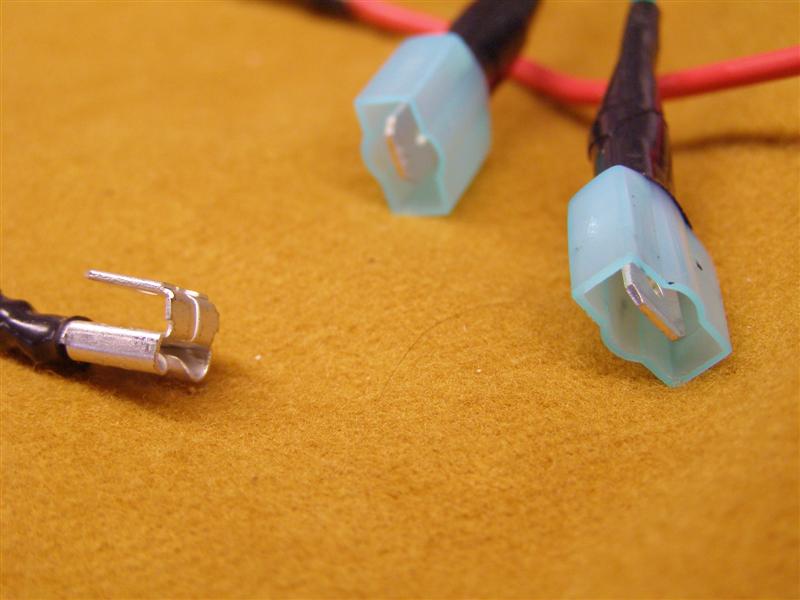 I lengthened the RED lead to allow an easier plug in to the back of the speedometer because that tachometer goes in last.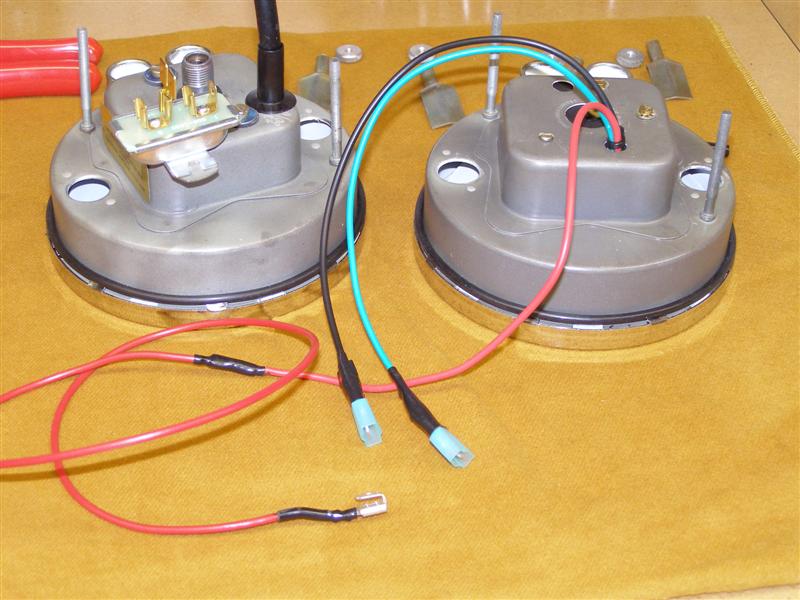 All ready except for my ground ring terminal, but that's coming up soon.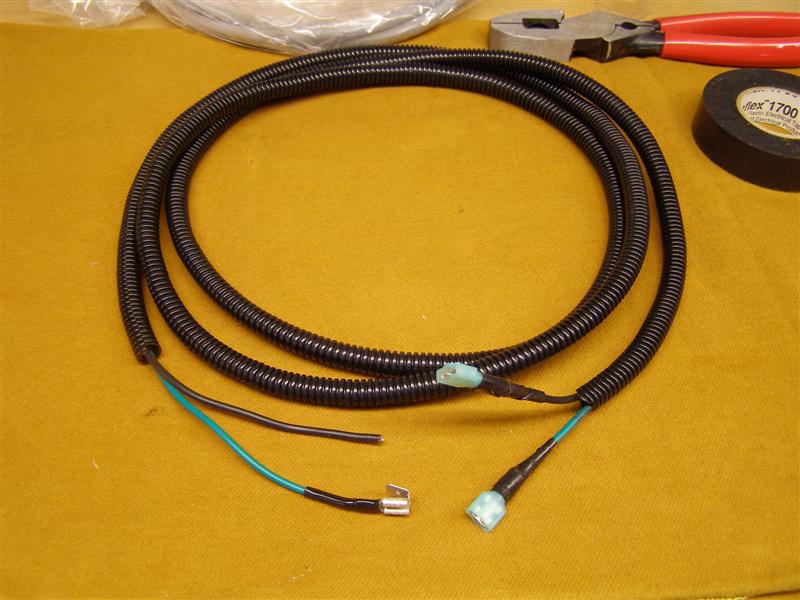 Test fits now, rather than trying to get them together for the first time inside the dash.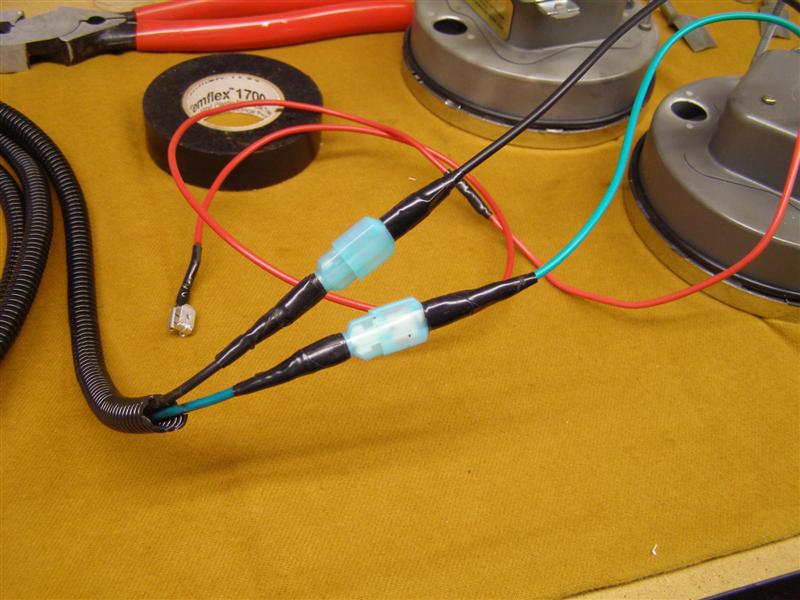 Just about done. This will be long enough to follow the main body wiring and come out right under
the alternator. Then the two wires will split off neatly to the coil and ground.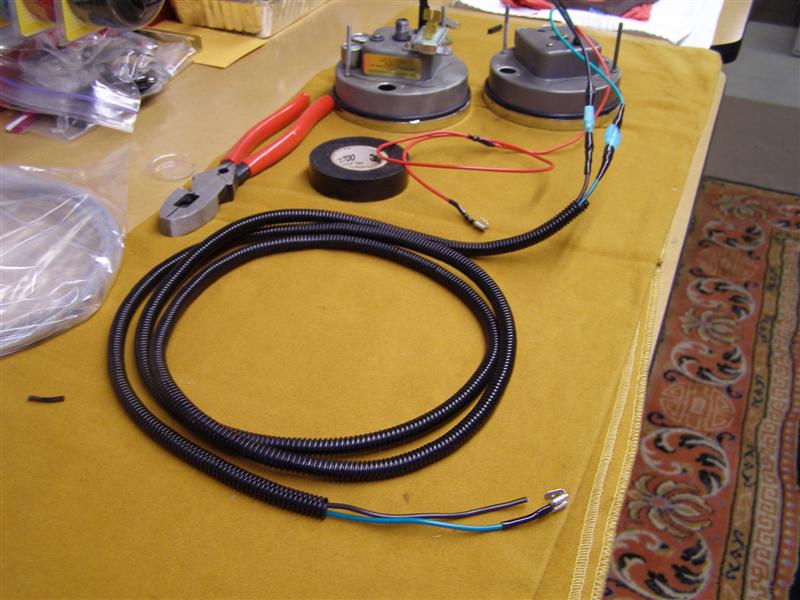 The ring terminal will go on the lower alternator to engine block bolt for a good ground and the
spade terminal on GREEN will go to the (-) negative spade on the coil. I do need an extra male terminal there.
Actually, after all of this was done, the tachometer had to come back out, so while it was out, Morris
decided to neaten up the harness and I decided to add a different connector to the voltage stabilizer for power.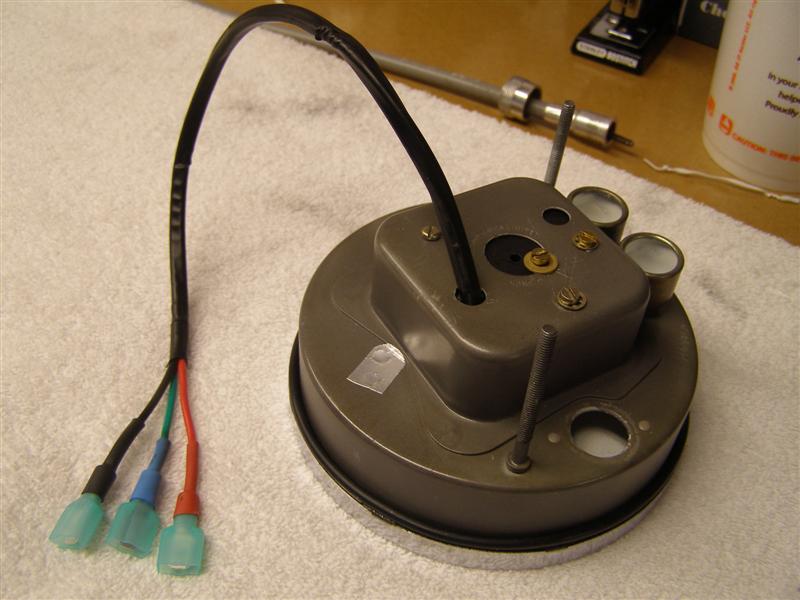 This is a little better use of the heat shrink and it allows a neater installation in the dash. This
allows me to leave a shielded connector with a long lead for power on the voltage stabilizer, which
is in a tough place to reach, unless of course, one wishes to remove the speedometer but that is a waste of time.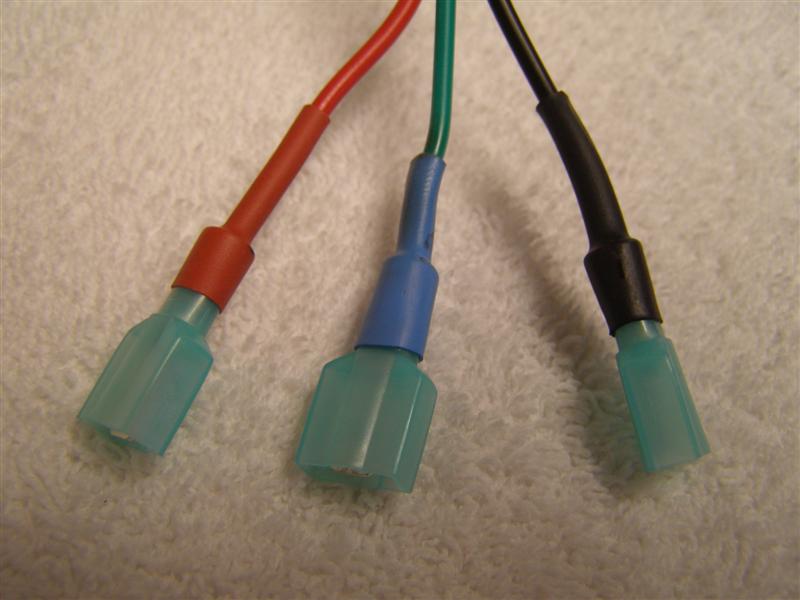 Good light helps when soldering too. Time to put everything away down here.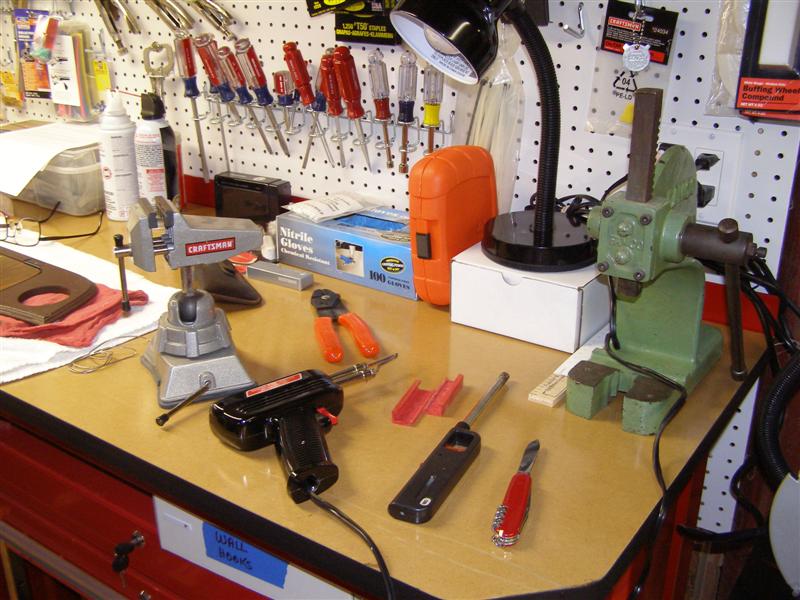 This harness follows right along with the others.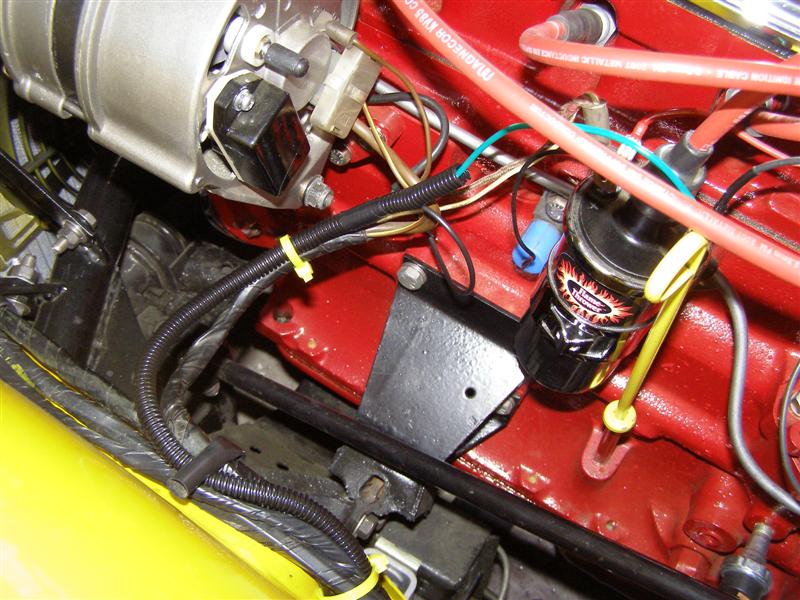 Green to negative (-) on the coil and the black, which is hidden, is grounded between the alternator bracket and the block.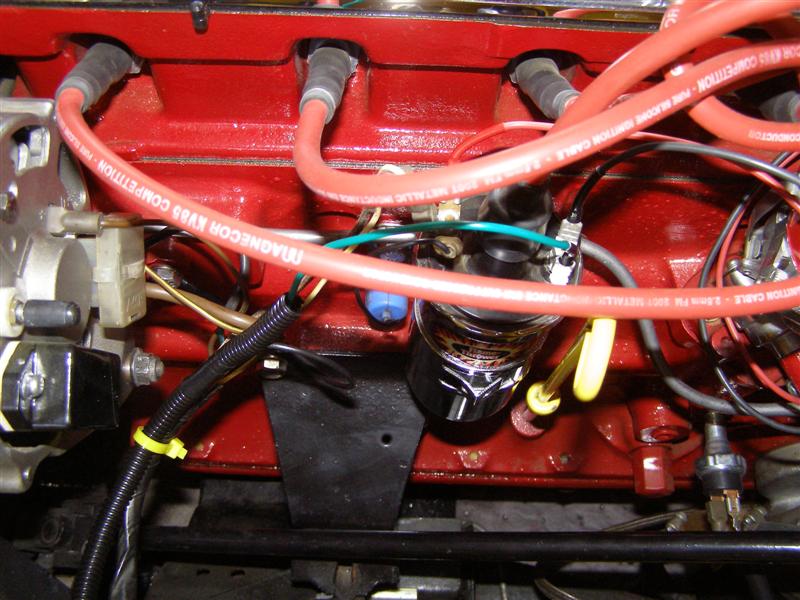 Somehow, I miscalculated and ended up with an extra 12" of harness. Better too long than too short!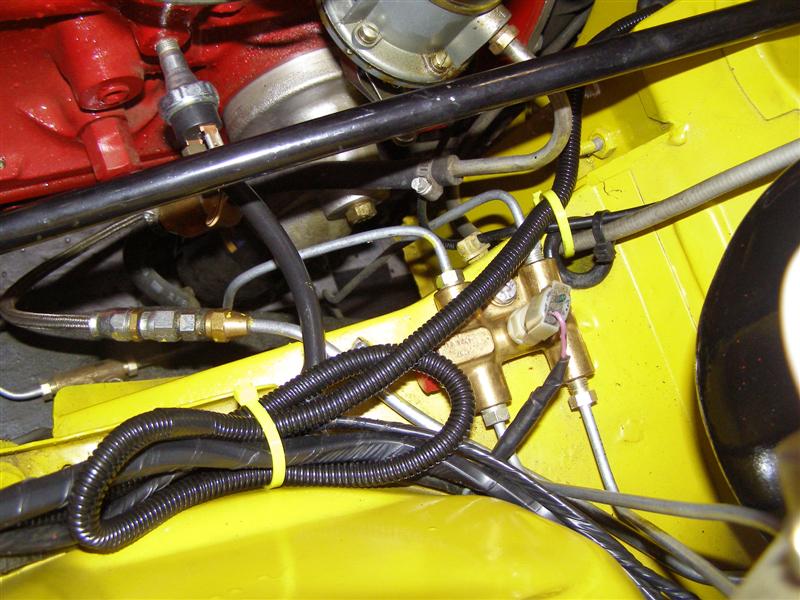 That looks better than the old gray cable and was much easier to fit through the grommet.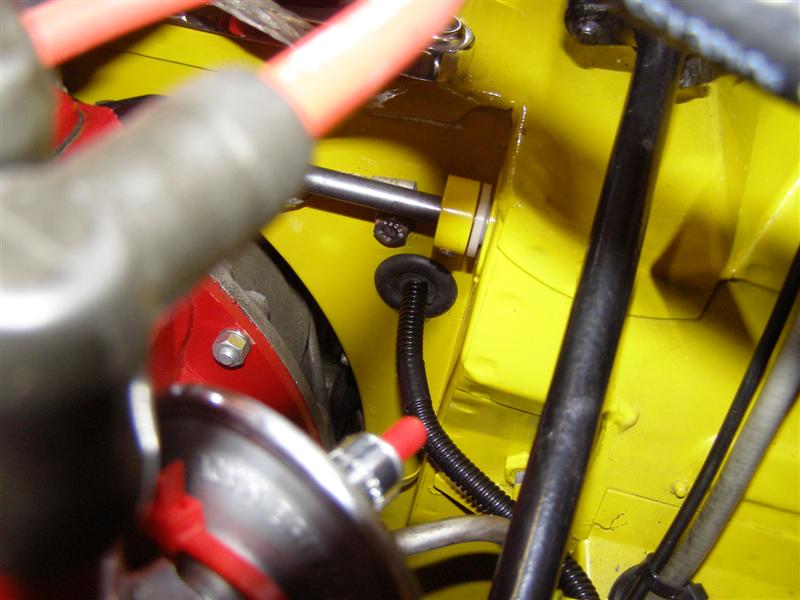 Luckily I had a nice red silicone cap to cover the old distributor cable adapter fitting. That is extra
wiring is for the Pertronix unit that I haven't quite decided exactly what I want to do with yet.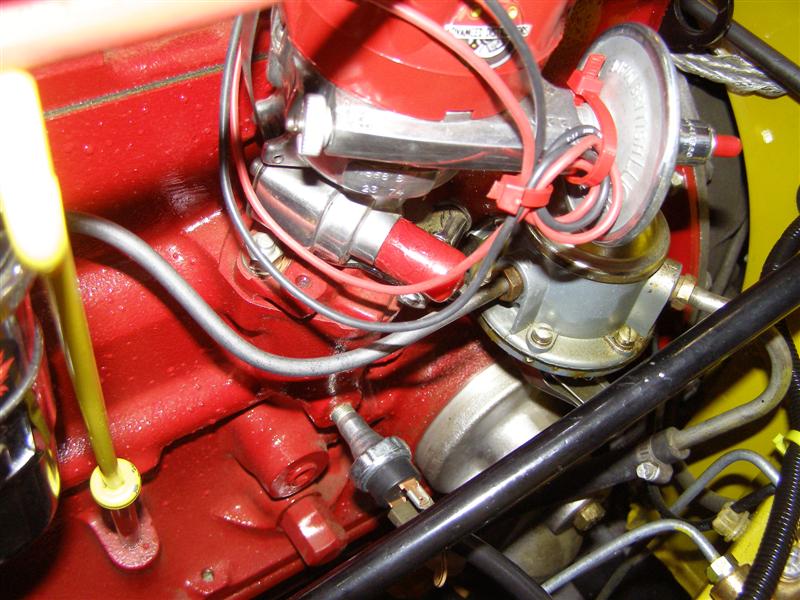 Time for a good fingerprint clean up in there and just about ready for spring.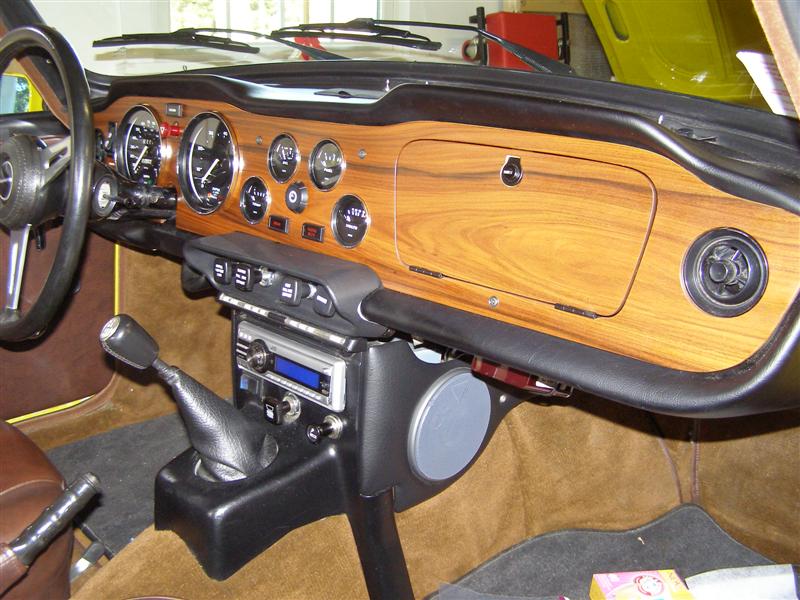 Next project.....GoodParts CVJ Axle Assemblies in the spring